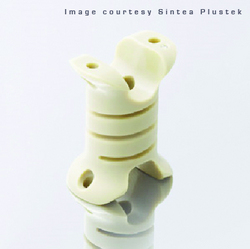 "The pursuit of this important milestone now completes the major elements of our regulatory strategy for the Americas. We are very pleased to bring our products and technologies to the fast growing Brazilian market" Scott DeFelice, President & CEO of OPM
(PRWEB) September 8, 2010
Oxford Performance Materials (OPM) is pleased to announce that a medical device produced with its OXPEKK®-IG polymer has received ANVISA clearance. ANVISA is the regulatory authority for the Brazilian market. The approved device is produced by Sintea Plustek and is a long-term spinal implant. This regulatory clearance now establishes a path forward for OPM to sell its products in the highly dynamic Brazilian market.
"The pursuit of this important milestone now completes the major elements of our regulatory strategy for the Americas. We are very pleased to bring our products and technologies to the fast growing Brazilian market" said Scott DeFelice, President and CEO of OPM. To date OPM has been selling OXPEKK®-IG polymer extensively in Europe, Middle East and South America on the basis of numerous CE mark and other national approvals, including recently, the desirable Korean market by gaining approval from the Korean Food and Drug Administration (KFDA). In addition a device produced with OXPEKK®-IG polymer was also cleared by the U.S. Food and Drug Administration (FDA) opening up the US market.
"The Viking device made from OXPEKK®-IG polymer has been very successful for Sintea Plustek, and we are pleased that the global expansion of this novel product now continues into South America." said Franco Ronchi, Technical Manager of Sintea Plustek.
OPM's OXPEKK®-IG product is a high-performance, ultra-pure thermoplastic with properties very similar to bone. The product is polyetherketoneketone (PEKK) and is within the class of Polyaryletherketone polymers (PAEK). OXPEKK®-IG polymer has been extensively implanted worldwide. The product is supported by comprehensive ISO 10993 biocompatibility and purity data. The biocompatibility data is available directly from OPM or in the firm's extensive FDA masterfile, without any access fees. Given the implantation history of OXPEKK®-IG polymer products, there are now numerous clinically relevant studies available for reference.
About Sintea Plustek
Sintea Plustek was created through the merger of Sintea Biotech SPA and Plustek SRL with the purpose to improve one's quality of life and longevity by offering innovative systems. Sintea Plustek's products are ergonomic through minimally invasive surgical techniques, which allow a fast recovery through a lasting safe product. Through its wide range of increasingly advanced products, Sintea Plustek will fulfill each surgeon's requirements, facilitating an ergonomic design of implants and user-friendly devices. Moreover, it is important to Sintea Plustek to support the supply of innovative systems with additional services. Sintea Plustek plays an important role in the orthopaedic market.
For additional information, please visit http://www.sinteaplustek.com.
About OPM
Founded in March 2000, OPM has rapidly become an industry leader in the ultra-high performance thermoplastic polymers market. The firm's versatile OXPEKK® polymers are currently being used in medical, space and defense, semiconductor and industrial markets worldwide. OPM is ISO 9001:2000 and ISO 13485:2003 certified.
In February 2009 OPM was acquired by France's leading chemicals producer, Arkema.
For additional information, please visit http://www.oxfordpm.com or http://www.arkema.com/opm.
About Arkema
A global chemical company and France's leading chemicals producer, Arkema consists of three strategically related businesses: Vinyl Products, Industrial Chemicals, and Performance Products. Arkema reported sales of 4.4 billion euros in 2009. Arkema has 13,800 employees across 40 countries and six research centers located in France, the United States and Japan. With internationally recognized brands, Arkema holds leadership positions in its principal markets. For additional information, please visit http://www.arkema.com.
OXPEKK® is a registered trademark of Oxford Performance Materials, Inc.
###