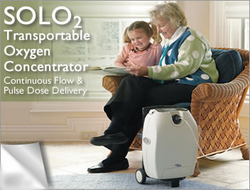 This is the first portable oxygen concentrator that we are aware of, that offers both a 3 LPM continuous oxygen flow as well as a high fixed pulse oxygen output flow of 1800 ml
Salt Lake City, UT (PRWEB) September 25, 2009
Announcing the new portable oxygen machine from Invacare with an amazing 1.8 liters per minute (LPM) pulse rate oxygen output and as well as 3.0 LPM continuous oxygen output. Now, oxygen therapy patients requiring large doses of oxygen can finally leave their large bulky home concentrators behind to enjoy greater mobility and freedom. This new portable concentrator is now available for online ordering at Vitality Medical, a discount online medical supply store. At present, Vitality Medical is the low cost leader of the SOLO2 Concentrator at only $2,990.00, more than $3,000 less than the manufacturers' suggested retail price.
Salt Lake City, UT (PRWeb) Sep. 25, 2009 - Vitality Medical announced today that they have added the new SOLO2 Transportable Oxygen Concentrator manufactured by Invacare to their portable oxygen concentrator product line. Vitality Medical is excited about the opportunity this new portable medical oxygen machine brings to oxygen therapy patients. The major advantage this new oxygen concentrator brings to respiratory patients is its high oxygen output capacity. "This is the first portable oxygen concentrator that we are aware of, that offers both a 3 LPM continuous oxygen flow as well as a high fixed pulse oxygen output flow of 1800 ml," states Brad Packer, Vitality Medical's president. Mr. Packer indicates that the top selling SeQual Eclipse 2 now has some competition in the portable oxygen concentrator market. The Eclipse 2 matches the 3 LPM continuous flow of the SOLO2, but the Eclipse 2 in pulse output offers a "fixed bolus size up to 96 ml" as indicated in their marketing brochure(1).
Invacare's new product provides a significant benefit for oxygen therapy users. Oxygen patients requiring a higher oxygen dose who previously were confined to their large, bulky home oxygen generators can now enjoy more freedom. Former oxygen patients who were tethered to immobile oxygen units can now travel by automobile to go shopping or to visit friends and relatives and lead more active lives. Brad states that "When you add the average battery service of 2.5 hours to the high oxygen output of this portable oxygen device, oxygen patients will gain the freedom to go where they need to go like never before." Chris LaPorte, Invacare Product Manager, indicates that the company expects that the SOLO2 will be approved by the FAA for airline travel. Invacare already has FAA approval for their XPO2 Portable Oxygen System which weighs in at only 7.3 pounds, but does not have the continuous oxygen flow option.
Vitality Medical expects the SOLO2 to quickly join the ranks of its top selling portable oxygen concentrators--Inogen One, Respironics EverGo, SeQual Eclipse 2 and the Invacare XPO2. Mr. Packer indicates that each of these respiratory oxygen devices have their strengths. "For instance, the Inogen One has the lowest noise output, the Respironics EverGo has the longest battery life before requiring a recharge, and the Invacare XPO2 has the least weight and smallest size." More detailed information about the SOLO2 can be found at the following link: Invacare SOLO2 Portable Oxygen Machine.
The SOLO2 is expected to play a major role in treating Chronic Obstructive Pulmonary Disease (COPD) which includes Chronic Bronchitis and Emphysema. Chronic Bronchitis is a disease affecting the airflow due to narrowed airway passages which are often swollen and filled with mucus. Emphysema is caused by alveoli damage, which are tiny air sacs in the lungs. These diseases first manifest themselves to victims through shortness of breath that gradually worsens with time. Coughing also becomes more frequent as the flow of mucus or phlegm increases. People suffering from these diseases find themselves becoming less and less active due to their lack of oxygen. Portable oxygen concentrators have offered these patients the opportunity to live more active lives by giving them concentrated oxygen. Often referred to as O2 therapy, portable oxygen equipment provides these patients with a concentrated dose of oxygen. Most of these travel oxygen concentrators have adjustable settings, allowing patients to control the flow of oxygen to their lungs. As their need for oxygen increases or decreases, patients can adjust the oxygen flow accordingly.
Additional information about the top selling portable oxygen concentrators, including a comparable chart highlighting category leadership and prices are displayed on the following webpage: Portable Oxygen Concentrators Comparison. This webpage also has links to each portable concentrator where detailed information, including product specifications is posted. Vitality Medical also carries home oxygen concentrators or non-portable oxygen concentrators, oxygen masks, pulse oximeters and oxygen therapy accessories.
Regarding Vitality Medical
With nine years of online retail experience in the medical supply business, Vitality Medical has provided medical supplies and therapeutic equipment to hospitals, clinics, nursing homes and patients recovering at home. Vitality Medical currently serves people suffering with incontinence, sleep apnea, excess weight, mobility loss, lymphedema, blood pressure, oxygen deprivation, COPD, bed-ridden patient care and a host of other medically related issues. As a low cost leader during an era of spiraling medical costs, Vitality Medical seeks to help families on a budget meet their medical supply needs by offering discount and wholesale pricing on home medical supplies.
Regarding Invacare
Invacare is the leading manufacturer of home medical supplies and equipment. They are well known for their mobility products and medical respiratory products, but also provide bathroom safety products, hospital beds, medical protective equipment, incontinence supplies and wound care supplies.
Contact
Barry Preusz, Marketing & Public Relations
801-733-4449
Vitality Medical, Inc.
(1) SeQual Brochure 82908E
# # #