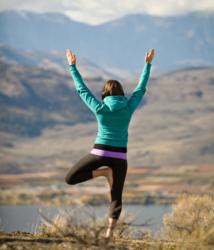 This therapy is very different than other treatments for cystic fibrosis which only address the symptoms of the disease.
Fairfax, VA (PRWEB) February 03, 2012
Richard Geller, coach from OxygenRemedy.org announced, "OxygenRemedy.org now has a section about therapy for cystic fibrosis, which tells people suffering from the disease how they can get to the root of their symptoms and finally get relief from them."
Geller elaborates, "The new section explains how the cause of chronic disorders like cystic fibrosis is improper breathing, which lowers the level of CO2 in the body and prevents it from getting oxygen to the cells and tissues that need it. It may seem counterintuitive that breathing more actually gets less oxygen to cells, but deep, rapid breathing only gets oxygen to the top of the lungs. The rest of the lungs are deprived of oxygen. And that's why people with cystic fibrosis experience difficulty breathing, coughing, lung infections, and mucus buildup. Their lungs are damaged."
Geller explains how the Oxygen Remedy therapy for cystic fibrosis differs from other therapies. "This therapy is very different than other treatments for cystic fibrosis which only address the symptoms of the disease. The truth is, even if someone has the faulty gene that causes CF, they don't have to suffer from the worst of its symptoms. They can see their symptoms almost completely disappear with the Oxygen Remedy. OxygenRemedy.org has already worked with patients to see this happen."
Geller continues, "With many people living with cystic fibrosis, OxygenRemedy.org has taken the opportunity to provide them with information about a new and promising cure, based in extensive scientific research, which the article cites. OxygenRemedy.org is aware of the need for a therapy that will treat not the symptoms of cystic fibrosis, but the cause for those symptoms, and has released Oxygen Remedy Therapy for Cystic Fibrosis."
"Research has shown how people with chronic diseases such as cystic fibrosis, lupus, panic and anxiety disorders, heart disease, and many more breathe at a higher rate than healthy people. The Oxygen Remedy therapy teaches the body to breathe normally, and thus to get cells and tissues the oxygen they need."
OxygenRemedy.org is devoted to educating readers how they can obtain relief from their illnesses without pills or major lifestyle changes. Simply by changing their breathing. This remedy has already worked for patients with serious illnesses, such as cystic fibrosis, and now it is available to all of our readers. As a mainstream medical treatment in Russia, it has ended the suffering of millions with chronic diseases. It has been endorsed by the New Zealand Medical Association and by the Mayo Clinic. While controlled breathing is just gaining acceptance in the U.S., many worldwide clinical studies have been conducted. All confirm the benefits from controlled breathing.
OxygenRemedy.org does not diagnose or treat any disease, including Cystic fibrosis, nor do we suggest that you cease medical treatment. The ideas here may or may not work for specific individuals with Cystic fibrosis. Health can get better or worse with any treatment and decisions as to treatment are best made by the individual who can make those decisions, such as the patient, the health professionals, and/or parents. OxygenRemedy.org does not claim to cure any disease, including Cystic fibrosis, and in many cases lacks enough statistical evidence to make any such claims. I hope the ideas and experiences here help you regain your health, but no assurances are made that this will happen.
###