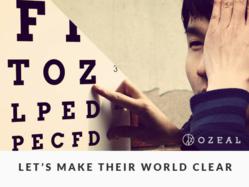 It is the customers that together with Ozeal are doing good to the community. That's Ozeal way for charity.
London, England (PRWEB UK) 8 April 2013
Earlier this month, London-based start-up Ozeal Glasses announced on its official website http://www.ozealglasses.co.uk that they are parting with some non-profit organizations and began their "Gift Project" from Asia. Good wishes from the customers together with Ozeal glasses together go to individuals in need as gifts.
"We are different because we are increasing the transparency in the process, and we are also encouraging the participation of our customers." Aaron, CMO of Ozeal Glasses explained their unique way of doing charity.
In the past ten years, e-commerce has developed at an astonishingly rapid pace. Trillions of dollars has been generated by e-companies each year. Just the same as the traditional companies, e-companies have realized the importance of undertaking social responsibilities. They choose various ways to do charity. However, the core of helping the community is beyond exception.
We're familiar with many large companies doing so much good to the society. For instance, eBay promises to give 10% of their sale to charity. There are also small and newly established companies doing their part to give something back in unique ways. In this way, Ozeal Glasses is well worth mentioning. They are committed to giving away 100,000 pairs of prescription glasses to individuals in need in the name of their customers.
Instead of embracing the charity alone as a company, Ozeal aims at establishing a platform for charity for their customers. "We make profit because of the customers. It is the customers that together with Ozeal are doing good for the community." Aaron said.
"Your love, we deliver", just as their commitment, Ozeal began their "Gift Project" from Asia. Customers who write gift cards will be the first to know where their wishes go and how they have been so helpful through the feedbacks from Ozeal. It is obvious that Ozeal Love will soon reach every corner of the world. No matter how the business is, Ozeal makes sure 100,000 pairs of their glasses given away each year to those in need.
Ozeal way of doing charity by increasing the transparency and participation will become a new trend. For after all the companies do charity based on the consumers. It is the companies and customers that work together helping the community.