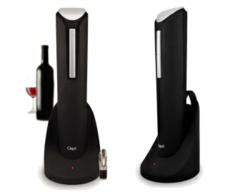 This is a beautiful product. I am thinking of getting a few more for friends... It is a great product, executes flawlessly, the foil cutter and recharging stand are wonderful. Fantastic!
Los Angeles, California (PRWEB) December 02, 2012
Ozeri, a specialty manufacturer of digital lifestyle products for the modern home, launches giveaway with Sweepstakes Ninja to give consumers the chance to win products from their luxury line. Ozeri products are found in vacation residences that span the globe, from majestic European estates, luxurious desert spa resorts, and private tropical resorts. Sweepstakes Ninja helps consumers engage with brands such as Ozeri through social media, video marketing, blogging, partner websites and forums, and more through their online giveaways. Entrants have the chance to win one of several Pro Wine Openers from the Ozeri product line. The Ozeri Pro Electric Wine Bottle Opener opens up to 40 wine bottles on a single charge. It also includes an elegant recharging base, compact foil cutter and a bonus pourer and stopper.
Ozeri products are designed for ultra-luxury markets. They are found in five-star residences with fine kitchen, bath, entertainment, and personal amenities. Ozeri products incorporate award-winning designs, innovative materials, and durable construction for long product satisfaction.
Sweepstakes Ninja offers consumers the chance to enter multiple sweepstakes through their innovative online sweepstakes draws (http://sweepstakesninja.com/sweepstakesdraw/draw/ozeri-electric-wine-opener/). They are daily entry draws, that not only give consumers chances at winning amazing prizes, but also give companies daily branding exposure to consumers. Through the sweepstakes draws, contestants have a chance of winning one of several unique Ozeri Pro Wine Openers sponsored by Ozeri.
The sweepstakes promotion officially runs until January 1st, 2013. To increase their chances of winning, the entrant may share sweepstakes links with friends, family, and through social media. This is a win-win situation for both Ozeri and the entrant. Entrants increase their chances of winning award winning products, and more people learn about the Ozeri product line.
For more information about how Sweepstakes Ninja promotional marketing services deliver profits for companies, visit Sweepstakes Ninja main website for details.
About SweepstakesNinja.com
SweepstakesNinja.com is the leading provider of fun and interactive sweepstakes. The company matches consumers with companies, in a fun and interactive manner. Consumers have the chance of winning amazing prizes. Companies benefit from daily exposure to their brands, word of mouth advertising, customer loyalty, and long term increases in profit. For more details, visit http://www.sweepstakesninja.com/