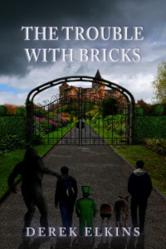 Holmen, Wisconsin (PRWEB) June 11, 2013
As the DVD of Disney's "Oz: The Great and Powerful" hits retailers today, Bard and Book Publishing is offering a unique twist on the much beloved Wizard of Oz, courtesy of author Derek Elkins. "The Trouble With Bricks" follows the adventures of Suzie Phipps, her brother Cleotus, and other odd characters that they meet as they weave through places and situations in an alternate reality and fantasy world.
The story begins when Suzie Phipps and Cleotus meet an overweight fairy who transports them to a different dimension: a world of underwear trees, rivers of lard, and into the pages of "The Trouble With Bricks." On their way to seek the wisdom of Mr. Wilson, CPA who is their only chance to return to their world, they meet and befriend a number of odd characters and hurdle challenges while dodging the malevolent evil presence of Bricks, a jazz player and deranged lunatic. The story unfolds with more interesting characters and situations as they find themselves getting closer to their goal but farther from reality.
"The Trouble With Bricks" is published by Bard and Book Publishing. It is available in several ebook reading formats on Smashwords and is also available for Kindle on Amazon.