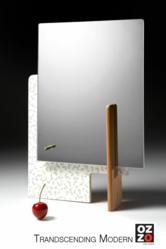 I abstract motifs from chance encounters, movies, music and modern architecture to design and produce functional objects.
Erie, Pa (PRWEB) November 18, 2012
Ozzo's founder Gary Cacchione makes striking and conceptual furniture designs. Highly original as well as functional, his creations are more closely akin to art. With the every growing onslaught of Black Friday and Cyber Monday that will be upon us; OZZO is launching its signature Beverly Hills mirror for a limited time at its online store for $45.00+Shipping. The Beverly Hills mirror by Gary Cacchione is at home atop a personal vanity or entryway side table. It's striking shape—a three-layered tier of contrasting materials and bisecting forms—is designed to stun and captivate observers. The mirror ships flat and is easily assembled by the owner, adding another layer of creativity to this contemporary piece.
Since the early 1980's Gary Cacchione's design work has involved furniture concepts based on the relationship between materials and experiences. Each piece is the embodiment of a time, person or place and is designed to be a functional and influential piece. Gary Cacchione was quoted saying," I create original, functional, sculptural furniture. Asymmetrical forms, bold materials and modern shapes cleverly mingle with my experience to produce this furniture-art hybrid. I abstract motifs from chance encounters, movies, music and modern architecture to design and produce functional objects.
My work is a combination and layering of various materials. My design process began almost exclusively with the use of Native American hardwoods and veneers. My palette has grown to incorporate unexpected materials and innovative processes. That method has evolved from age old woodworking and joinery to include new CNC routing and vacuum bending technologies. This combination of old and new has led to a distinct change from one of kind furniture to multiples.
In 2010 I founded OZZO to become the entity responsible to produce and market these striking and conceptual furniture designs."
Media contact: Brad Ford
bradf (at) dovetailgalleryinc (dot) com
814.459.8071
Like us:
http://www.ozzoinc.com