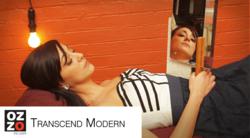 Add Elegance and Whimsy to any Room - Brad Ford
New York, NY (PRWEB) December 11, 2012
Ozzo Designs creator Gary Cacchione has created some extravagant, unique, and truly original furniture elements. You can buy these artistic gifts at OZZO's online store. Ozzo's designer line has been picked for the Media News Blast Gift Guide 2012-13 Holiday/Winter Gift Guide featuring the latest and greatest products for your upcoming segments and features.
Ozzo's founder Gary Cacchione makes striking and conceptual furniture designs. The Beverly Hills mirror by Gary Cacchione is at home atop a personal vanity or entryway side table. It's striking shape—a three-layered tier of contrasting materials and bisecting forms—is designed to stun and captivate observers. The mirror ships flat and is easily assembled by the owner, adding another layer of creativity to this contemporary piece.
Ozzo's side table Corner Stone. The triangular piece—which can nestle in a room's corner or be placed out in the open—is formed from ebony veneer, Birdseye maple veneer and solid cherry. A smooth acrylic top with a distinctive petal-shaped edge gives this futuristic, cubist design a playful appearance.
Ozzo's final gift idea is for the aficionado in music and art. Hey Joe was inspired by the sound of music—Jimmy Hendrix's Hey Joe to be exact—this full-length mirror by Gary Cacchione strikes a commanding pose. A collage of soft and angular shapes made of textured laminate, solid cherry and Pommele Sapele veneer forms a slick, furniture-art hybrid that emits a strong lyrical vibe.
Since the early 1980's Gary Cacchione's design work has involved furniture concepts based on the relationship between materials and experiences. Each piece is the embodiment of a time, person or place and is designed to be a functional and influential piece. Gary Cacchione was quoted saying," I create original, functional, sculptural furniture. Asymmetrical forms, bold materials and modern shapes cleverly mingle with my experience to produce this furniture-art hybrid. I abstract motifs from chance encounters, movies, music and modern architecture to design and produce functional objects.
Product Guide Video Link
Media contact: Brad Ford
bradf (at) dovetailgalleryinc (dot) com
814.459.8071
Like us:
http://www.ozzoinc.com
Dovetail Gallery Inc.
352 East 18th Street
Erie, PA 16503