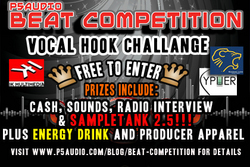 "Our beat competitions are all about community," states David Whiteside, President of P5Audio, "We have prizes for who we think makes the best beat, the producer with the best youtube video explaining how they made their beat, and a listners choice prize"
Los Angeles, CA (PRWEB) April 8, 2010
P5Audio.com, an online leader in royalty free music sample sounds, launches their third beat competition. It is FREE to enter, and music producers are provided with FREE samples from P5audio's Female Radio Ready Vocal Chops sample sound pack.
Prizes include cash,software from IK Multimedia, music samples and music loops from P5audio.com and more...
The Beat Competition Challenge:
1) You must piece together a vocal hook using the FREE Radio Ready Female Vocal samples provided by P5audio.
2) Underneath the vocal hook you create from the free sounds provided, you must produce an original beat using any sounds you wish. The beat you create has to be 100% original.
Beat Contest Prizes
1st Place Prize:

$200 Cash
$200 worth of FREE P5Audio sounds!!!
FREE COPY of the powerful software sampler Sampletank 2.5 from IK Multimedia®.
A FREE T Shirt from our upcoming exclusive P5audio Producer Apparel® line.
Interview on the new internet radio show The Cypher Lounge with host Hassahn Phenonenon.
Best YouTube® Video Bonus Prize: (Entry not required to win 1st prize or Listeners Choice Prize)
Using either a camera or your favorite screen capturing software, video yourself explaining how you made your beat for this competition and post it on YouTube.com
Our favorite YouTube video will win:

$100 worth of FREE P5Audio sounds!!
FREE T Shirt from our upcoming P5audio Producer Apparel line.
Listeners Choice Prize:
On June 2nd, 2010, 7 PM PST, Cypher Lounge Radio will hold a LIVE "Listeners Choice" call in contest.
The winner of the "Listeners Choice" Prize will win:

$100 CASH!
Free 24 Pack of Roaring Lion Energy Drink®
A FREE T Shirt from our upcoming Producer Apparel line
The 9 runners up will each get a FREE product of their choice valued up to $50!!!
P5Audio is Happy to welcome back guest judge Hassahn Phenomenon, host of the Internet Radio Show The Cypher Lounge!
Cypher Lounge Radio is an Urban style internet radio show that airs every Wednesday night at 10:00 PM EST, 7:00 PM PST on blogtalkradio.com.
For more information on this beat competition for music producers:
Contact: David Whiteside
Visit: P5Audio Music Loops & Sample Sounds
Phone: 1-888-884-8838
About P5Audio:
P5 Audio, leader in music sample sounds and loops, is committed to delivering professional products for the modern music producer - offering multi track music loops and sample downloads, hip hop samples, music loops and sample sounds including vocal sample sounds for fruity loops, garage band loops, acid pro, rock beats and drum loops - ready to use in all major software sampler formats, as well as all music hardware samplers. 100% Royalty Free and available for Instant Download
###