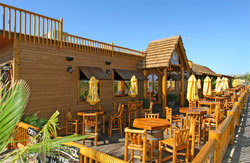 "Our award entries this year varied greatly in their application, complexity and design. This diversity truly shows that modular construction is becoming more widely accepted and used by all industries" said Ted Mourouzis, Pac-Van C.O.O. and President
Indianapolis, IN (PRWEB) March 10, 2010
Each year, the Modular Building Institute recognizes the leaders in the industry by presenting their Awards of Distinction to honor the best modular projects in the world. The projects are scored in four categories by an official panel of judges. Those categories include: architectural excellence, technical innovation, cost-effectiveness / energy efficiency, and calendar days to complete.
This year's conference was held in Orlando. As is customary on the last evening of the event, the highly anticipated awards dinner took place. Pac-Van's award entries this year included a renovated modular building that was turned into a bar & restaurant, a two-story modular office for a school district, a modular convenience store, and a modular veterinarian's office.
"Our award entries this year varied greatly in their application, complexity and design. This diversity truly shows that modular construction is becoming more widely accepted and used by all industries" said Ted Mourouzis, Pac-Van C.O.O. and President. "We look forward to this industry event every year and congratulate our Pac-Van team on the success."
Pac-Van captured the coveted Best of Show award and First Place in the Renovated Re-use, Greatest Revision under 10,000 sf category for the Pirate Cove Bar and Restaurant in southern California. The modular restaurant by Pac-Van includes outdoor seating and beach themed décor as well as large windows that allow patrons to enjoy the waterfront view.
About Modular Buildings
A modular building is a factory-built structure that complies with the same building codes as traditional construction. Modular construction is ideal for any application including commercial and retail facilities as illustrated above. They offer the advantages of early occupancy, portability, financial flexibility, and cost savings. Modular buildings have established a growing niche in the construction process for organizations that need quality temporary or permanent space without the delays often associated with traditional "site built" construction. Modular buildings have also been identified as a more eco-friendly building option for those companies looking to reduce their carbon footprint.
About the Modular Building Institute (MBI)
The Modular Building Institute is the trade association representing companies involved in the manufacturing and distribution of commercial factory-built structures. MBI provides services and promotes professionalism through communication, education, and recognition. Dedicated to enhancing the future growth of the industry, MBI encourages innovation and quality among its members.
About Pac-Van, Inc.
Pac-Van, Inc. is a regional provider of portable buildings such as mobile offices, storage containers and temporary and permanent modular buildings. The company serves a diverse array of customers, including those in the commercial, industrial, construction, government, medical, and education markets. Pac-Van is headquartered in Indianapolis and has offices in 26 cities in 18 states. The company is owned by General Finance Corporation - NASDAQ: GFN
Pac-Van, Inc.
2995 S. Harding Street
Indianapolis, IN 46225
317-489-5771
info(at)pacvan(dot)com
###