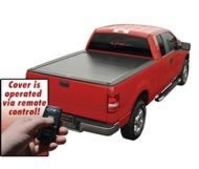 Compton, CA (PRWEB) September 28, 2009
4 Wheel Parts, the nation's largest distributor of off-road parts & accessories for Jeeps, trucks, & SUVs, is now offering Pace Edwards tonneau covers. Pace Edwards has been the market leader of retractable tonneau covers for over 20 years, with more than a quarter of a million tonneau covers currently on the road.
Pace Edwards has developed many innovative features that set them apart in the tonneau covers industry. Retractable tonneau covers are one of the best options because of their unique design, which allows them to retract into a canister located at the front of the truck bed. Unlike other models, a retractable tonneau cover does not have to be removed in order to gain full access to the truck bed. The canister takes up just a small portion of the truck bed, and the rest remains free for whatever cargo that needs to be transported.
There are a few different models of Pace Edwards retractable tonneau covers, each created with the same basic premise in mind - to create an easily-operated heavy-duty tonneau cover - but diverging in the details. The main difference between the various models is how the tonneau cover retracts into the canister. The JackRabbit and Full Metal JackRabbit tonneau covers are both manually operated. The user simple releases the latch mechanism to retract it into the canister and uses the pull strap to bring it out and shut it again. The truck bed cover can even be locked into position every 12 inches for a half-open, half-closed option.
As if that weren't easy enough, Pace Edwards made it even simpler with their Bedlocker electric tonneau cover. With just the push of a button, the tonneau cover opens or closes all by itself in under thirty seconds - no manual work required. The powerful motor hooks up to the engine of the truck and does all the work. It also provides the option of leaving the tonneau cover partially open or closed.
All of Pace Edwards' tonneau covers are built to be weatherproof, staying strong under even the heaviest loads of snow or rain. Their powder-coated aluminum finish makes them incredibly resistant to stains and corrosion. With the locking tailgate, cargo will remain safe from potential theft. Plus, thanks to their ground-breaking clamp on design, installation is incredibly simple with no drilling required.
4 Wheel Parts offers competitive pricing on every Pace Edwards tonneau cover, plus a wide selection of leveling kits, tires, wheels, and other off-road parts. To get more information on Pace Edwards tonneau covers, as well as other types of tonneau covers, call 877-474-4821 or visit http://www.4WheelParts.com.
About 4 Wheel Parts: 4 Wheel Parts has been a leading provider of tonneau covers, lift kits, and other off road vehicle parts for over 40 years. Learn more about the benefits of a tonneau cover at http://www.4WheelParts.com.
###