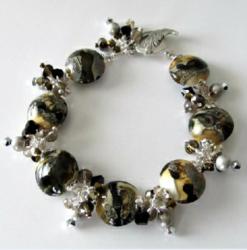 Everything is so artfully arranged, so tasteful--you've done such a beautiful job! I also appreciated your kind words and your cheerful willingness to work with my requests.
(PRWEB) January 14, 2013
Pacific Jewelry Designs, founded by designer Paula Huckabay, is a successful jewelry company that creates custom handmade beaded creations for their customers. Products include bracelets, necklaces, earrings and rings. Pacific Jewelry Designs has launched an online sweepstakes with Sweepstakes Ninja to give women the opportunity to win unique women's handmade jewelry.
Pacific Jewelry Designs has been regularly featured in Bead Trends Magazine. These products have also been featured on websites such as Blisstree, Star Impulse, as well as many others.
Sweepstakes Ninja gives people the chance to learn about unique companies such as Pacific jewelry Designs, while at the same time giving them the chance to win great prizes. People may enter the sweepstakes through the sweepstakes draws (http://www.sweepstakesninja.com/sweepstakesdraw/draw/pacific-design-jewelry/) . They are daily entry draws, that not only give people chances at winning amazing prizes, but also introduces unique companies to them. Through the sweepstakes draws, contestants have a chance of winning a unique handmade beaded bracelet from Pacific Jewelry Designs.
The sweepstakes may be entered through the Sweepstakes Ninja website. To increase their chances of winning, entrants may share sweepstakes links with friends, family, and through social media. This is a win-win situation for both Pacific Jewelry Designs and the entrant. Entrants increase their chances of winning award winning products, and more people learn about their line of handmade beaded jewelry.
About SweepstakesNinja.com
SweepstakesNinja.com designs fun and interactive sweepstakes. The company matches consumers with companies, in a fun and interactive manner. Entrants have the chance of winning amazing prizes, and have fun participating in the sweepstakes. Companies benefit from exposure to their brands, word of mouth advertising, customer loyalty, and long term increases in profit. For more details, visit http://www.sweepstakesninja.com/.