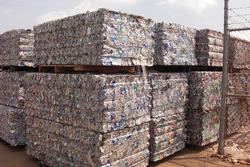 Hickam Air Force Base, Hawaii (Vocus) March 19, 2009
PACAF installations in Hawaii and Alaska have earned the Air Force's Gen. Thomas D. White Environmental Award recognizing the bases' pollution prevention and natural resource conservation programs as "best in the Air Force" for 2008.
Hickam AFB won the Pollution Prevention Award for effective promotion of base-wide recycling programs, pollution prevention awareness, efforts to reduce ozone depleting substances, hazardous waste elimination /recycling methods, and its alternative-fueled vehicle program. In 2008, the base recycled more than 6 million containers (over 1 million pounds), sold 200,000 pounds of recycled paper and 200,000 pounds of glass bottles, and produced 300 tons of reusable aggregate from pulverized glass. Sales from Hickam's recycled materials earned the installation more than $400,000.
Elmendorf AFB, Alaska, earned the Natural Resources Conservation award, which recognizes efforts to promote conservation and sound management of natural resources. The installation maintained wildlife populations by providing enforcement and monitoring through the base's Military Conservation Agent program, and was recognized as a "Tree City USA" for its innovative landscaping practices and selection of tree species to support wildlife.
The Hickam and Elmendorf programs will go forward to compete at the DOD level in the Secretary of Defense Environmental Awards against winners from the other DOD components.
The Air Force's environmental awards recognize the efforts of installations and individuals in environmental quality, restoration, pollution prevention, recycling, and conservation of natural and cultural resources. The purpose is to promote excellence in every aspect of environmental stewardship. The awards are named in honor of Gen. Thomas D. White, the Air Force Chief of Staff from 1957-61, who charted the course for Air Force environmental programs.
Hickam AFB in Honolulu is home to the 15th Airlift Wing and 67 partner units including Headquarters Pacific Air Forces and the Hawaii Air National Guard. Elmendorf AFB, adjacent to the City of Anchorage, is the largest Air Force installation in Alaska and home of the Headquarters Alaskan Command, Alaskan NORAD Region, 11th Air Force and the 3rd Wing.
NOTE: This press release covers just a few of the highlights of the Hickam and Elmendorf environmental programs. PACAF's environmental award winners are doing much more to help protect our environment. For more information or to arrange interviews, please contact Pacific Air Forces Public Affairs at (808) 448-3218 or via e-mail at pacaf (dot) paops (at) hickam (dot) af (dot) mil.
More information on the Air Force, PACAF, Hickam AFB and Elmendorf AFB can be found at:
http://www.elmendorf.af.mil/news/story.asp?id=123127827
# # #