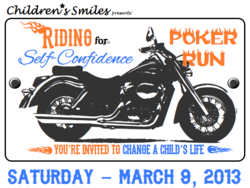 I want to help promote the Event and get more awareness out to people and to our members about Children's Smiles and the amazing things they do for children and for our community. ~ says Israel LoBue, owners of San Diego Pacific Beach Fit Body Boot Camp
San Diego, CA (PRWEB) December 21, 2012
Fitness boot camp franchise San Diego Pacific Beach Fit Body Boot Camp® announces its support and participation in Children's Smiles upcoming Charity Event "Riding for Self Confidence Poker Run." The Event's goal is to help raise funds to support the Charity's mission to help children restore self confidence, who are victims of physical or mental abuse, or are survivors of traumatic life events.
The "Riding for Self Confidence Poker Run" Event is scheduled to be held on March 9, 2013. It will start at Sweetwater Harley Davidson located in National City. The event combines the thrills of motorcycle riding with the luck of the draw. Registered participants will embark on a self-guided scenic ride throughout San Diego's East County, make periodic stops where they are given a poker card until they receive the necessary five cards for a poker hand, and finish with a celebratory BBQ back at Sweetwater Harley Davidson where awards will be given for the best poker hand. Funds raised from the Event will go towards the educational scholarships of three deserving children for the 2013-2014 Academic Year.
"Children's Smiles represents that guidance that so many lack and intervenes by providing the children with mentors, personal hygiene products, education grants and scholarships, once a lifetime opportunities and so much more," says Jillian Ziska, Events Coordinator, Children's Smiles. "Our children are the future of our nation and if we as the older generation do not help, do not support our youth, then what kind of future can we expect to have."
"I want to help promote the Event and get more awareness out to people and to our members about Children's Smiles and the amazing things they do for children and for our San Diego community," says Israel LoBue, owners of San Diego Pacific Beach Fit Body Boot Camp.
As a continuing supporter of the Children's Smiles charity and contributing sponsor of the event, San Diego Pacific Beach Fit Body Boot Camp continues to be committed to bringing awareness and providing support to abused and traumatized children in the San Diego area.
About Children's Smiles
Children's Smiles is a 501c(3) non profit organization that is working diligently in the lives of children all over the world whose self-confidence has been compromised due to a traumatic or abusive situation. Their goal is to provide the essentials that sponsor the strengthening of self-confidence, love, comfort, and education in these children. Children's Smiles presence and efforts spread throughout the United States. They touch the hearts and smiles of more than 2,000 children per year. Children's Smiles participates in a series of outreach programs from stuffed animal giveaways, inspirational celebrations for hospitalized children and their families, to finding mentors for troubled youth. We aim to inspire and encourage each and every child to discover their confident, powerful self and realize the bright successful future that lies ahead. For more information about Children's Smiles and Riding for Self Confidence Poker Run Event, please visit http://www.childrenssmiles.org/
About San Diego Pacific Beach Fit Body Boot Camp
San Diego Pacific Beach Fit Body Boot Camp is one of the premiere indoor boot camps in San Diego. Founded by military veteran and certified personal trainer, Israel LoBue, San Diego Pacific Beach Fit Body Boot Camp offers clients with innovative and dynamic workouts coupled with personal attention and support to help them lose weight and achieve their health and fitness goals. San Diego Pacific Beach Fit Body Boot Camp is part of the family of Fit Body Boot Camp fitness boot camp franchises whose Global Goal is to expose and engage twenty percent of the world's population to a healthy and fit lifestyle by 2020. For more information about San Diego Pacific Beach Fit Body Boot Camp, visit http://www.fitbodybootcamp.com/ca/pacific-beach-san-diego-fitness-boot-camp/