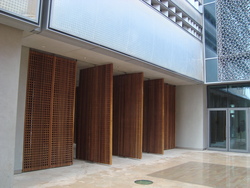 It is encouraging to see international designers such as Fosters + Partners specify Palmwood as a model product for sustainable architecture.
London, UK (PRWEB) February 15, 2011
The gates have opened in the UAE on the initial phase of Masdar, the world's first carbon-neutral and zero-waste city. Those gates, along with external cladding and screens, were made from Palmwood®, the sustainable hardwood-substitute by Pacific Green.
Situated in the Abu Dhabi desert, the Masdar Institute is a facility devoted to sustainable research. It sits at the heart of a masterplan developed by architects Foster + Partners. The Institute campus is powered entirely by solar energy and is pioneering a range of sustainable technologies as a model example for future buildings.
Palmwood comes from plantation coconut palms, which are typically discarded when they stop bearing fruit. Twenty years ago, Pacific Green set up the world's first factory dedicated to the research and development of coconut palms. Using proprietary processing technology, it created a consumer-orientated product (Palmwood) that recycles the abundant plantation material, providing customers with a sustainable alternative to rainforest hardwood.
For the Masdar project, Pacific Green produced a range of external Palmwood architectural features specified for their environmental credentials and aesthetic appeal. Eight gates at the entrance routes act to filter the hot desert winds; 4-metre tall screens channel cooling air currents through the internal corridors and help to dissipate sunlight; and external louvers provide shade to exposed classrooms and glazed areas. Palmwood's durability makes it suitable for the desert setting.
Pacific Green's spokesman comments, "We were excited to be involved such an ambitious project, and to demonstrate the versatility and beauty of Palmwood in this context. It is encouraging to see international designers such as Fosters + Partners specify Palmwood as a model product for sustainable architecture."
Pacific Green's Palmwood architectural range includes columns, cladding, decking and flooring. The company also manufactures a collection of furniture which combines Palmwood with natural materials. All products are available through an international dealer network.
ABOUT
Pacific Green is a manufacturer of furniture and architectural products. It is the global leader of coconut palm technology and produces Palmwood®, an ecologically-sustainable substitute to tropical hardwoods. The tropical furniture and exotic furniture design is inspired by the handcrafts and artefacts of traditional societies. The architectural range includes cladding, flooring and columns. All products are handmade from quality materials by artisans. Pacific Green was invited to present its message at the World Expo 2010. Products are available at stores in 80+ cities internationally.
###