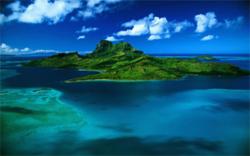 "The Pacific at the Speed of a Click"
Los Angeles, CA (PRWEB) June 22, 2011
Finding the perfect Pacific Islands getaway just became a quantum leap easier with the launch of the new PacificIslands.com website, announced Jean Patrick F. Mouflard President of PacificIslands.com. This ultimate travel site offers "the Pacific at the speed of a click," including flights, accommodations, activities and more, for eight top Pacific destinations. The site also features extensive information and insight to help travelers discover the special magic of each destination and choose the ideal vacation.
"The goal," explained Mouflard, "is to make this the premier online resource for exploring the Pacific region. Our multi-destination Hotel Booking Engine helps travelers select accommodations within a country or within the whole region, and bundle them in one simple itinerary. Our exclusive multi-destination Air Booking Engine allows for the creation of itineraries based on promotional air fares unlike traditional booking engines. We also offer packages and special deals at all price levels."
On PacificIslands.com, takeoff for Australia, the Cook Islands, Fiji, New Zealand, Samoa, Tahiti, Tonga, or Vanuatu begins with a click. More destinations will soon be added, including New Caledonia, Niue, the Solomon Islands and Papua New Guinea. Whichever way the user approaches travel, it is easy to set up: by destination, by airline, by resort, or by booking a convenient package plan.
A custom itinerary is literally at your fingertips on the redesigned PacificIslands.com site. The multi-destination Air Booking Engine scans a wide range of airlines. For those who prefer the personal touch, PacificIslands.com team of experts is available for full assistance, simply by calling toll-free 800-888 0120.
For ease and convenience, PacificIslands.com offers travelers a wide variety of vacation packages that include flights, accommodations and extras. For even greater convenience, packages can be customized to the individual traveler's tastes and lifestyle.
The exciting "Need It Now" program offers fantastic last minute hotel deals in Australia and New Zealand. Featuring over 2,500 properties in Australia and over 700 in New Zealand, it enables instant purchase of the best hotel deals available within the next 90-day period.
The range of possibilities is exciting. From simplicity to luxury, central to remote, relaxing to exciting, private wilderness reserves to five star hotels, virtually any taste in vacation style can be satisfied. The backdrop is some of the most incredible natural scenery on Earth, from deserts to rainforests to perfect beaches. There are destinations where travelers can meet native peoples and experience their cultures, ancient and modern. Activities as diverse as whale watching and wine tasting can be found easily. There are also opportunities to get up close with the unusual animal inhabitants. The sports potential is huge, too, including hiking, diving, snorkeling, surfing, skiing, fishing, riding, tennis, golf, and more.
"We've made booking the easy part," Mouflard observed. "Gathering information on each location is time consuming and difficult, but we have done it already, and made that easy, too. The hard part is choosing between so many enticing places to go and things to do. For many people, travel is special. It is a discovery of other worlds and other people, and sometimes a discovery of aspects of yourself in a new background. We want to make that experience accessible to anybody who seeks it. That's why the website offers so much information about each destination, what makes each place tick. We want this to be the place to find your own perfect itinerary, tailored to your needs and budget."
About PacificIslands.com
PacificIslands.com is a unique, customer-focused travel agency specializing in bringing the magic of the South Pacific Islands within easy reach. It was conceived in 1998 by Jean-Patrick Mouflard, born of his passion for this unique and mysterious part of the world. Incorporated in 2008, the company partnered with Tahiti Nui Travel, a major travel corporation in French Polynesia, in 2009. The beta version of the site launched in May 2010, and was opened to the trade and the public in August 2010. In June 2011, the redesigned PacificIslands.com debuted, offering more options and easier access, offering the pacific at the speed of a click.
###