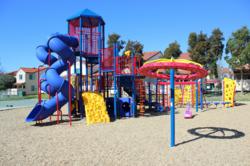 "It's awesome" says Mary as she shoots out the winding spiral slide with her little brother Josh!
San Diego, CA (PRWEB) March 01, 2012
San Diego based commercial playground equipment company, Pacific Play Systems now offers its clients free value-added design services and tips to assist them in selecting age-appropriate equipment for their playground facility: Selecting the ideal playground equipment can be a cumbersome process for site administrators that are not familiar with the process. As such, it is advisable to work with a vendor who is familiar with the latest safety standards and is capable of assistance throughout the process.
In today's market, there are several commercial playground equipment manufacturers nationwide, offering modular equipment that look similar in appearance. These manufacturers are generally represented by a local vendor. During the playground equipment selection process, emphasis should be placed on the quality and appearance of the equipment, its durability and longevity, warranty, cost, reputation of the manufacturer and the geographic location of the factory. Unfortunately, most playground equipment manufacturers are located thousands of miles away from CA, making the freight an important consideration. Therefore, preference should be given to regional manufacturers who are able to deliver at a substantially reduced freight cost.
In selecting a manufacturer, important considerations should be given to selecting its local representative as well, including vendor's qualifications and expertise, years of experience in the industry, promptness and quality of service. It is highly recommended that buyers select a vendor who is capable of offering high quality value-added services such as free consultation, and planning, design, assistance with installation, site work, etc. Hiring a highly qualified vendor who represents a quality product may end up costing a little more up front, but in the long run it can eliminate thousands of dollars in unnecessary expenses associated with hiring less qualified vendors who often provide inferior products that have a shorter life span and take short cuts so that they are able to deliver a lower cost up front in order to get the job.
Recommendations for selecting high quality playground equipment:
· Safety should be the first concern. Commercial playground equipment needs to comply with the latest safety standards per USCPSC and ASTM-F1487-07. For more information, please visit http://www.pacificplayinc.com/links/
· Look for vendors that have a proven track record in the commercial playground equipment industry, offer full installation, and are capable of offering a high level of customer support and value-added services throughout the process.
· Consider the experience of the playground equipment designer and installer. This will ensure that your playground will be age-appropriate, installed correctly, and has proper safety surfacing.
· Purchase the highest quality playground equipment that your budget allows. If you are getting multiple bids, carefully evaluate each proposal to make sure that you understand what you are getting. This is not the time to buy the least expensive equipment in order to save money.
Pacific Play Systems is a leading supplier of high quality Orange County Commercial Playground Equipment serving San Diego as well as other communities in southern California. Pacific Play Systems has assembled the highest quality American made products, manufactured by the most reputable and environmentally friendly local and regional manufacturers on the west coast. Founder, Ali Bemanian brings a unique perspective to the commercial playground equipment industry with a master's degree in architecture and years of expertise in manufacturing, design and construction.
For more information, please visit their website http://www.pacificplayinc.com
About Pacific Play Systems
Pacific Play Systems, Inc. specializes in San Diego Commercial Playground Equipment and offers playground equipment, safety surfacing, and installation for parks, schools, preschools, apartments, HOAs, military bases, and churches in San Diego, Orange, Riverside, San Bernardino and Los Angeles Counties. They also offer a wide range of shade structures, shade sails, sports equipment, indoor playground equipment, water park equipment, and site furnishings.
###