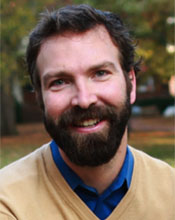 We are delighted to welcome Brian to our team; he brings flexibility, a high standard of excellence and a sophisticated clinical perspective.
Hilo, HI (PRWEB) May 30, 2013
As an innovative therapeutic wilderness program located on the Big Island of Hawaii, Pacific Quest is pleased to welcome Dr. Brian Konik as a Primary Clinician. Brian received his B.A. in Psychology from The University of Florida, his Ph.D. in Clinical Psychology from The University of Vermont, and completed his predoctoral internship at the Outpatient/Inpatient Neurobehavioral Unit with the Kennedy Krieger Institute at the Johns Hopkins University School of Medicine. Dr. Konik's research background focused on the relationship between anxiety and pain in children. He uses an eclectic CBT- and ABA-focused approach with his clients, which culminated at UVM and Johns Hopkins but which developed over many years in a variety of settings.
Most recently Dr. Konik worked as a Clinical Psychologist in private practice in Annapolis, Maryland. For 10 years at Spectrum Behavioral Health, he treated adolescents and young adults with issues ranging from anxiety, depression, trauma, and substance use/abuse, to learning differences, significant behavioral problems, and developmental disabilities. Dr. Konik also has extensive training in and experience with parent/child interaction therapy, parent training, and family group counseling, as well as specialized training in suicide/crisis intervention. While in Annapolis, he served regularly as a contracted behavioral specialist with the local public school system and as a consultant with private, independent day schools, conferring with teachers and administrators on issues experienced by his clients, their families, and educators.
Brian has had enriching experiences at outdoor/experiential educational positions in the past and is enthusiastic about transitioning back to this type of lifestyle with his young family. His education, training, and experience allow him to provide a variety of new and complementary services to Pacific Quest's dynamic wilderness therapy program. Suzanne McKinney, co-founder, states, "We are delighted to welcome Brian to our team; he brings flexibility, a high standard of excellence and a sophisticated clinical perspective."
About Pacific Quest
Pacific Quest is an outdoor therapeutic program for struggling teens and young adults, located on the Big Island of Hawaii. Their wilderness programs offer a clinical, yet holistic approach to treatment, going beyond traditional wilderness therapy and teaching sustainable life skills. Pacific Quest's proprietary therapeutic model is a groundbreaking approach that uses organic gardening to create concrete metaphors for its students as they cultivate their own health and happiness. Pacific Quest provides an environment that allows for a true discovery process for its students, a place that is safe, structured, experiential and natural. Owned and operated by a veteran team of professionals with hundreds of years of combined wilderness program experience, Pacific Quest offers a unique approach to treatment that is individualized for each student.