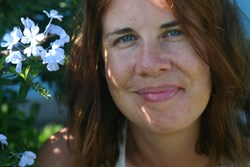 The clinical department plans to fully embrace her experience, enthusiasm and dedication to this work.
Hilo, HI (PRWEB) October 30, 2013
As a world renowned therapeutic wilderness program for struggling adolescents and young adults, Pacific Quest is pleased to welcome Christine Riley, LMFT as a Primary Clinician. Christine received her Bachelor of Arts in Psychology from State University of New York in Plattsburgh and her Master of Arts in Marriage and Family Therapy in 2003.
Prior to joining the Pacific Quest clinical team, Christine served as the Clinical Director for a prominent wilderness therapy program in New York. Christine has experience supervising a team of clinicians, providing clinically-based trainings for field instructors, and maintaining quality of care and wilderness program excellence throughout her career. Christine brings many years of experience observing students' clinical progress and helping to facilitate crisis interventions. Christine is a respected mental health clinician in the wilderness therapy industry and is recognized for her ability to provide effective individual, group, and family therapy. In addition, Christine is the author of several psychoeducational books for siblings of troubled teens.
Christine is a member of the International Association of Trauma Professionals (IATP) as well as a member of the National Association of Therapeutic Schools & Programs (NATSAP). Mike McKinney, Executive Director and co-founder, adds, "Christine is a seasoned clinician who brings insight and experience to each individual's therapeutic journey. The clinical department plans to fully embrace her experience, enthusiasm and dedication to this work. We are delighted to welcome Christine to the team!"
In her spare time, Christine enjoys reading, gardening, yoga, cooking, photography and spending time with her husband and two beautiful boys.
About Pacific Quest
Pacific Quest is an outdoor therapeutic program for struggling teens and young adults, located on the Big Island of Hawaii. Their wilderness programs offer a clinical, yet holistic approach to treatment, going beyond traditional wilderness therapy and teaching sustainable life skills. Pacific Quest's proprietary therapeutic model is a groundbreaking approach that uses organic gardening to create concrete metaphors for its students as they cultivate their own health and happiness. Pacific Quest provides an environment that allows for a true discovery process for its students, a place that is safe, structured, experiential and natural. Owned and operated by a veteran team of professionals with hundreds of years of combined wilderness program experience, Pacific Quest offers a unique approach to treatment that is individualized for each student.