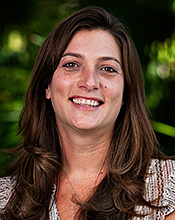 Hilo, HI (PRWEB) April 24, 2013
Pacific Quest therapist, Dr. Katie Kasenchak, Psy.D, recently presented "Unplugging and Unwinding with Nature- Based Therapy" at the annual Anxiety Disorders and Depression Conference in La Jolla, CA.
The Anxiety and Depression Association of America is a national non profit organization that was founded in 1980. Their mission is to "promote the prevention, treatment, and cure of anxiety, depression, and stress-related disorders through education, practice, and research." The topic of this year's conference in La Jolla, CA was "Anxiety and Depression: Technology and New Media in Practice and Research".
As a world renowned therapeutic wilderness program for struggling adolescents and young adults, Pacific Quest was proud to be part of the 2013 ADAA Conference. Dr. Kasenchak's presentation "Unplugging and Unwinding with Nature-Based Therapy" highlighted the many benefits of nature-based therapy. Dr. Kasenchak joined the Pacific Quest team in October 2011, after five years with Psychological Solutions in the San Francisco Bay area, where she provided assessment services for an educational consulting firm and wilderness therapy programs. She earned a BA in Psychology from Pepperdine University, and her doctorate from the Wright Institute. She has been working with at-risk children and adolescents since 1994, with experience in residential treatment centers, inpatient hospitals, and specialized academic settings. She has provided psychotherapy and psychological assessment for children and adolescents who struggle with a variety of difficulties, including such issues as learning disabilities, emotional disorders and trauma. Dr. Kasenchak has received specialized training in trauma, attachment, psychodynamic theory, high-conflict divorce, bereavement and projective testing. Dr. Kasenchak has also taught classes in child and adolescent development.
About Pacific Quest
Pacific Quest is an outdoor therapeutic program for struggling teens and young adults, located on the Big Island of Hawaii. Their wilderness programs offer a clinical, yet holistic approach to treatment, going beyond traditional wilderness therapy and teaching sustainable life skills. Pacific Quest's proprietary therapeutic model is a groundbreaking approach that uses organic gardening to create concrete metaphors for its students as they cultivate their own health and happiness. Pacific Quest provides an environment that allows for a true discovery process for its students, a place that is safe, structured, experiential and natural. Owned and operated by a veteran team of professionals with hundreds of years of combined wilderness program experience, Pacific Quest offers a unique approach to treatment that is individualized for each student.