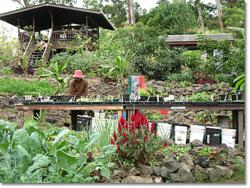 Hilo, HI (PRWEB) November 29, 2012
Pacific Quest outdoor therapy program is pleased to announce the promotion of Martha Bouchard, MS, as Operations Director and Travis Slagle as the Horticultural Therapy Director for a progressive outdoor behavioral healthcare program located on the Big Island of Hawaii. Both Martha and Travis have a long history working at Pacific Quest, and their new roles are a reflection of their commitment to ensuring quality of care and innovative treatment for struggling teens and young adults from around the world.
In her position as Operations Director, Martha Bouchard will have a key role in the oversight and supervision of the programmatic structure, the delivery of a contemplative educational curriculum, and the experiential learning that is built into the therapeutic milieu. Martha brings more than a decade of experience working with youth and their mentors, and a remarkable talent for managing multiple departments within a sophisticated therapeutic program.
In addition, Travis Slagle's new role as Horticultural Therapy Director is aimed at further enhancing Pacific Quest's proprietary Sustainable Growth™ treatment model. With over ten years of experience working with struggling teens in wilderness and residential treatment programs, Travis brings an expertise in the best practices of positive youth development, and a passion for engaging disengaged youth in an organic garden. Travis is a Master Gardener and active member of the American Horticultural Therapy Association. In his role as Horticultural Therapy Director, Travis is responsible for supervising, teaching, and helping to develop an integrated therapeutic gardening program that supports the foundation of Pacific Quest's approach to whole-person wellness, and rites-of-passage.
About Pacific Quest
Pacific Quest is a wilderness program for struggling teens and young adults, located on the Big Island of Hawaii. Their wilderness programs offer a clinical, yet holistic approach to treatment, going beyond traditional wilderness therapy and teaching sustainable life skills. Pacific Quest's proprietary therapeutic model is a groundbreaking approach that uses organic gardening to create concrete metaphors for its students as they cultivate their own health and happiness. Pacific Quest provides an environment that allows for a true discovery process for its students, a place that is safe, structured, experiential and natural. Owned and operated by a veteran team of professionals with hundreds of years of combined wilderness program experience, Pacific Quest offers a unique approach to treatment that is individualized for each student.