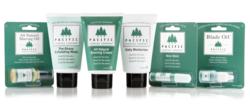 [Pacific Shaving Company] is a perfect example of how businesses – big and small – can consider the environment by incorporating tree planting into the heart of their business model.
San Francisco, CA (PRWEB) April 03, 2012
Small steps count. As part of its 'Every Purchase Plants a Tree' program, San Francisco-based Pacific Shaving Company, in partnership with non-profit organization Trees for the Future, is celebrating the planting of its 100,000th tree across 15 countries -- from Brazil to Uganda. That's enough to cover New York's Central Park four times.
Just like turning off the faucet while shaving, shutting off the lights when leaving a room, and recycling – planting a tree for every purchase is a small green step that adds up over time. Trees clean our air, filter our water and provide a habitat for half of the world's wildlife.
For a family-run business that started out catering to a small number of grooming enthusiasts online, this milestone and its positive environmental impact is worth celebrating. "It's a great way to demonstrate that small steps can have a big impact over time," said Stan Ades, founder and president of Pacific Shaving Company. "Our Partnership with Trees for the Future is just one of the ways Pacific Shaving aims to give back and bring sustainable business practices to the resource-heavy world of personal care products."
For non-profit Trees for the Future, Pacific Shaving has proven to be a model partner. "Our collaboration with Pacific Shaving Company has been an ideal fit from the beginning," says David Tye, Executive Director of Trees for the Future. "The company is a perfect example of how businesses – big and small – can consider the environment by incorporating tree planting into the heart of their business model. We are proud to call Pacific Shaving Company one of our longest running partners."
Pacific Shaving Company is also a preferred brand of top eco-experts everywhere. "I was introduced to Pacific Shaving Company several years ago, and it's been one of my favorite green products ever since," says Josh Dorfman, author of The Lazy Environmentalist and The Lazy Environmentalist on a Budget. "Consumers really don't want green products. Rather, they want awesome products that are also green. Pacific Shaving is the rare eco-friendly company that actually outperforms the competition. Getting a smooth, close shave while taking a small step to preserve the planet is my kind of environmental action and a natural choice for lazy environmentalists on Earth Day."
This Earth Day, Pacific Shaving Company celebrates the planting of 100,000 trees and is making plans for its next environmental goal. The company encourages individuals and businesses alike to find their own unique way to make a difference. It starts with a small step.
About Pacific Shaving Company:
Voted "Best Men's Product 2012" by Delicious Living Magazine, Pacific Shaving Company is the leading manufacturer of natural and eco-friendly shaving essentials. Its philosophy is simple: create shaving products that are good for the skin, good for the wallet and good for the earth. Always made with safe and natural ingredients, always within TSA guidelines for easy traveling and always manufactured in the USA. For more information visit: http://www.pacificshaving.com.
About Trees for the Future:
Since 1989, Trees for the Future has been helping communities around the world plant trees. Through seed distribution, agroforestry training and country programs, Trees for the Future has empowered rural groups to restore tree cover to their lands. Planting trees protects the environment and helps to preserve traditional livelihoods and cultures for generations.