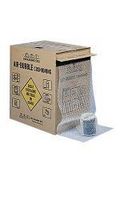 While online retailers use these supplies are their primary packaging, brick and mortar retail stores also typically have shipping needs as well. From store websites, gift shipping, and more, all retailers have a need for packaging supplies and our new collection of items can be added to any standard supply order as well
Saint Louis, MO (Vocus) October 7, 2010
Web based stores, also known as ecommerce stores, have different supply needs than traditional brick and mortar retail outlets. Logistically, shipping and fulfillment supplies are the main ordering priority for these online retailers. Store Supply Warehouse now has a dedicated product line that is designed to fulfill all the packaging supplies for online stores and for any shipping needs for brick and mortar retail stores.
"Online store owners need shipping supplies that enable them to get their merchandise out the door and on its way to a consumer's home as efficiently as possible," said Matt Wohlstadter, President of Store Supply Warehouse. "Instead of ordering bags and merchandise racks, these store owners are thinking about box sizes, packing materials, tape, labels, bubble sheets and packing list envelopes. Being able to order all of these items from the same place, while still being affordable, makes these store owner's jobs much easier. Plus, our at-home store owners still benefit from our extremely fast shipping policies to help keep their merchandise moving out the door."
The packaging items in the online store packaging supply line include:

Bubble Shipping Bags: Protective bubble bags in three sizes are made of 100% golden kraft with bubble lining and help to make shipping trouble-free.
Stay Flat Chipboard Mailers: Sturdy cardboard mailing envelopes with a smooth white outside for easy labeling and addressing and a fold over slot closure.
Shurtuff Poly Mailers: Protective poly bags are multipurpose and can fit a variety of item sizes. Features an adhesive seal closure.
Mailing Tubes with Endcaps: Rigid kraft mailing tubes come in two sizes and feature white plastic endcaps to keep your documents secure.
And these items are complemented by a large selection of shipping accessories such as:

Corrugated Pads: Sturdy Corrugated cardboard can be added to mailing envelopes to keep mailers rigid and protect merchandise.
Packaging Tape and Dispensers: Being able to quickly seal up boxes and mailers can significantly decrease the amount of time needed to wrap up packages.
Packing List Envelopes: Adhesive, clear envelopes let you add your packing lists to the outside of the box or mailer.
Box and envelope padding supplies such as kraft paper rolls, stretch film, bubble sheet dispenser packs, foam wrap dispenser packs plus fragile labels and utility knifes.
"While online retailers use these supplies are their primary packaging, brick and mortar retail stores also typically have shipping needs as well. From store websites, gift shipping, and more, all retailers have a need for packaging supplies and our new collection of items can be added to any standard supply order as well," said Wohlstadter.
For more information about Store Supply's packaging supplies, please visit http://www.storesupply.com/c-632-packaging-and-shipping-products.aspx
About Store Supply Warehouse
Store Supply Warehouse was founded in 1994 as a wholesaler of store fixtures and supplies to small, independent retailers. The company stocks and sells more than 1,600 retail fixtures and store supplies, including display cases, racks and shelving, shopping bags, hangers, pricing and tagging guns and mannequins. All products are in-stock in all four warehouses, located in Reno, Nevada, St. Louis, Missouri, Savannah, Georgia and Harrisburg, Pennsylvania. Store Supply's products are available for purchase through the 80-page catalog, which is updated and distributed three times a year, or online at http://www.storesupply.com and all orders placed before 3 p.m. receive guaranteed same day shipping. The company's main office is located at 9801 Page Avenue, St. Louis, Missouri, 63132. Contact Store Supply directly at 800-823-8887 or by email at contactus(at)StoreSupply(dot)com.
Media Contact:
Meg Fullenkamp
314-822-3656
###