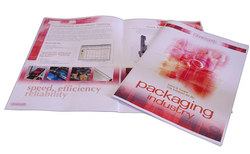 Slinfold, West Sussex, UK (PRWEB) September 3, 2008
Mecmesin has announced the release of a new brochure showcasing the force and torque testing solutions the company offers packaging and packaging material manufacturers.
The brochure demonstrates how force & torque measurement can prove essential for solving a variety of packaging quality control applications and conformance to packaging test standards.
Force and torque testing is an essential requirement in modern development and manufacture of packaging in order to optimise design to minimise material usage without compromising performance, to ensure compliance with the many stringent industry standards and to continually achieve 100% quality in production
Applications covered include cork extraction; friction testing, peel testing; pump actuation; tensile testing; top-load testing and torque testing of child-resistant and tamper-evident closures.
The new brochure is available to all free of charge by contacting Mecmesin on +44 1403 799979, by email at sales@mecmesin.com, or by download direct from the company's website at http://www.mecmesin.com.
Mecmesin will be exhibiting at the Interplas event at the Birmingham NEC from the 30th September to 2nd October 2008 (stand G158, Hall 4), where the company will showcase their range of force testing solutions for the packaging and plastics industry, and will be on hand to provide expert advice and guidance.
About Mecmesin
Formed in 1977, Mecmesin, is a leading designer and supplier of force and torque measurement solutions. Thousands of companies worldwide rely upon Mecmesin force and torque measurement systems for product and materials testing in a range of industries including automotive, electrical and electronics, medical devices, packaging, pharmaceuticals, plastics, safety and textiles to maintain consistency of manufacture, save money in the production process and to comply with relevant standards.
###