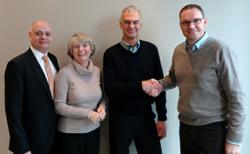 "Ratioform and Davpack complement each other extremely well, because we share the same DNA in our business models,"
Derby (PRWEB UK) 9 March 2012
Ratioform's European headquarters and central distribution centre are located in Munich, but the company has 8 other sites in Germany, as well as branches in Spain, Switzerland, Italy and Austria. As the number one packaging supplier in Germany for over 30 years, the name Ratioform is synonymous with quality - the company now has a database of over 250,000 very satisfied customers. Around 300 people are employed across Europe, with an additional 30 at Davpack.
Both parties stress that there is no question of redundancy; on the contrary, Ratioform not only intends to keep the Davpack name and maintain its Derby base, but plans to build on the company's reputation and recent success through an expansion in warehouse capacity, office space and staffing.
Three years of continuous growth throughout the recession convinced Michael Vollmer that Davpack represented the best acquisition opportunity for Ratioform to enter the UK market. He was keen to emphasise however, that this was not just going to be a case of the smaller fish being swallowed up by the bigger fish.
"We can certainly bring a lot to Davpack in terms of new investment, but Davpack will also be bringing a lot to Ratioform. They have a very lean, efficient business model and their performance over recent years has really impressed us. We'll be looking to learn from them and apply some of those lessons across our whole group."
Ratioform has been looking to expand into the UK for a while and for Michael Vollmer, Davpack looked like the perfect fit.
"Ratioform and Davpack complement each other extremely well, because we share the same DNA in our business models," he explains. "Both have high levels of stock so we can always fulfill our customers' orders and keep prices at a reasonable level, with very fast turnaround and the highest standards of customer service. Davpack's existing customers need not worry; we're not going to change a winning formula!"
For all three Davpack Directors, the deal represents something of a two-edged sword. Paul and Terry's father, Henry, started the business in 1968 and Terry's wife Carole (finance director) and daughter Laura (accountant) have also been instrumental in the company's development.