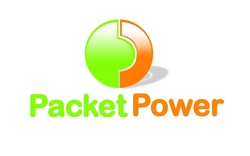 Packet Power - Power Manger Version 2.0 adds functions that our customers were asking for without sacrificing the ease of use of what sets our solution apart
Orlando, FL (PRWEB) October 6, 2009
Packet Power announced today at AFCOM's Data Center World® 2009, that it has delivered Version 2.0 of its Power Manager software. Packet Power Power Manager© makes it easy to track and analyze data center power consumption. Version 2.0 builds on the initial release of Power Manager, which was delivered to customers in November 2008.
"Packet Power - Power Manger Version 2.0 adds functions that our customers were asking for without sacrificing the ease of use of what sets our solution apart," said Steve VanTassel, Packet Power chief executive officer. "This release gives data centers the ability to gather more detailed information and makes it easier for our customers to act on that information and share it with other data center management applications."
Version 2.0 enhancements include:

Support for up to eight fully customizable input circuits per rack.
Tracking of power consumption at the device level for devices with dual power sources.
Reporting at the device and circuit level, in addition to the power cable, rack, category and facility level previously available.
Customer-defined alerts.
Export of power consumption data via SNMP.
More reporting options.
"One of the things that attracted us to Packet Power was their commitment to be responsive to our needs," said Packet Power customer Brian Driscoll, site manager at CoSentry's data center hosting and co-location facility in Sioux Falls, SD. "With the release of Version 2.0, Packet Power has delivered the main things we wanted to see added to the product, and provided them sooner than promised." For more information about CoSentry, please visit Data Center | Colocation.
Packet Power Power Manager V2.0 is available now for interested customers.
About Packet Power
Minneapolis-based Packet Power develops power consumption software and hardware that provides the simplest way for data centers to capture real-time, detailed electrical power usage information at any combination of individual device or rack level. Packet Power's innovative smart power cables install quickly without disruption to a facility's power distribution infrastructure. The information they capture is transmitted wirelessly for analysis and then accessed via reports or the Internet. For more information visit Packet Power.
###