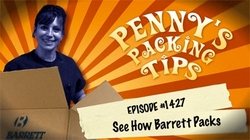 "We're not afraid to share our trade secrets because, ultimately, we want people to know that they can trust their most valuable possessions to our packing team." Bill Johnson General Manager
Minneapolis, MN (PRWEB) July 14, 2010
Barrett Moving & Storage unveiled the first in a series of free, online how-to-pack videos called "Penny's Packing Tips." The DIY video, featuring Barrett professional packer Penny (NAME) demonstrating how Barrett packs fragile items, is posted on YouTube and http://www.BarretMoving.com.
According to Barrett vice President Randy Koepsell and General Manager Bill Johnson, the three minute video is the first in a series of DIY videos that Barrett will release. "Moving can be a highly stressful event in someone's life. We want to make it easier by offering our customers tips on what they can do themselves, and the option to have our professionals take care of some of their most precious and hard-to-pack items are committed to eliminating or at least minimizing the stress associated with the physical and logistical aspects of moving," he said.
The video shows how Barrett's professional packers employ various techniques to quickly and carefully prepare items such as china, stemware, and family pictures to be moved. "Barrett's professional packers have the training and expertise needed to safely pack and transport even the most delicate items," says Lyman Jenkins, Barrett's Minnesota Certified Quality Trainer. Johnson said.
About Barrett Moving & Storage
Barrett Moving & Storage is a family business that has grown into an international industry leader. Established in 1901, the company has four locations that move hundreds of corporations and thousands of individuals nationally and internationally every year. Barrett became affiliated with United Van Lines in 1976 1964, and has since grown into one of its largest international agencies. The company offers specialized, customizable services for household moves, high-value shipping and corporate relocations.
###