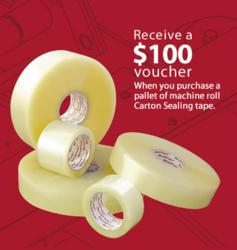 Rancho Cucamonga, CA (Vocus/PRWEB) February 17, 2011
To help the packaging industry minimize production costs, packing tape distributor BestPack launches the Tape 2 Parts Voucher Program, which entitles customers who purchase a pallet of machine roll packing tape to receive a one-time voucher worth $100. The voucher will greatly minimize costs as it can be used to purchase tapehead parts, machine belts, and spare parts for case sealers.
To redeem the voucher, simply present the Purchase Order upon ordering case sealer parts. While the voucher can be used on spare parts, tapehead parts, and machine belts, the coupon cannot be used on shipping and handling purchases associated with the parts purchased. The voucher is only valid for 30 days and can be used both by the distributor and the specific end-user to whom the voucher is issued. With BestPack's Tape 2 Parts Voucher Program, clients can now purchase numerous amounts of blades, springs, and rollers to fix multiple machine maintenance issues.
BestPack is a globally recognized leader in efficient packaging solutions. Included in the line-up of durable and reliable packaging equipment are carton sealers, case erectors, and complete packaging machinery systems. The packing tape authority also offers custom designed case sealers ideal for the needs of any industry, which can be attested by the most sophisticated companies around the world.
To receive exclusive deals and offers, join the company's mailing list or simply visit the packing tape distributor's official blog for the latest packaging industry news.
About Best Pack
Based in Rancho Cucamonga, CA, BestPack is the industry leader in packaging equipment machinery, case sealers, carton erectors and packaging tape. Also providing customized packaging solutions, BestPack is one of the most reliable and dependable manufacturers of all product packaging systems. This press release is produced by Cybertegic.com - an Internet marketing services agency that specializes in search engine optimized press release marketing (SEO marketing).
# # #