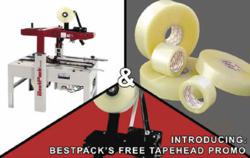 The company offers one free tapehead for customers who purchase any BestPack carton sealer and a pallet of carton sealing tape.
Rancho Cucamonga, CA (PRWEB) May 12, 2011
Save as much as $1,168 with BestPack, the leading online manufacturer of packing tapes and other tape sealing solutions. The company offers one free tapehead for customers who purchase any BestPack carton sealer and a pallet of carton sealing tape.
Choose from BestPack's line of reliable, cost-effective and durable carton sealers which is the company's flagship product. BestPack carries more than 90 models of carton sealers broken down into four categories—adjustable manual, adjustable fully automatic, random manual and random fully automatic. Meanwhile, the company also offers top of the line packing tapes, also known as carton sealing tapes. BestPack's line of packing tapes is also known for its consistent quality and durability. The catalogue features industrial grade pressure sensitive acrylic carton sealing tapes and a line of premium grade acrylic packing tapes for extreme temperatures which uses premium grade adhesive. The company also offers printed and printable carton sealing tapes. Visit the website now for more information on the company's line of premium industrial packaging solutions and to find out more about BestPack's other promos. Aside from the free tapehead promo, customers who purchase a pallet of machine roll carton sealing tape can receive a one-time $100 voucher for spare tapehead parts and machine belts. Log on to BestPack.com now for details.
Aside from top quality carton sealers and packing tapes, BestPack's product line also includes case erectors; accessories such as tapeheads, skid plates, carton stopper kits and conveyor kits and also custom automated packaging systems. Companies and businesses in need of packaging machine installation and training services can also work with BestPack's experienced engineers and technical consultants who will provide top quality service and the best automation systems available. BestPack also caters to businesses that prefer to lease packaging machines.
Sign up for the newsletter now to find out more about BestPack's latest promotions and updates on the company's products and services.
About BestPack
BestPack is the total tape sealing solution with specially formulated lines of carton sealing tape, namely, Acrylic tape and Hot Melt tape, as well as 90 different models of carton sealing machines: carton sealers, case formers and case erectors. Press release produced by Cybertegic.com – an Internet marketing services agency that specializes in search engine optimized press release marketing (SEO Marketing) and Los Angeles based SEO services.
###