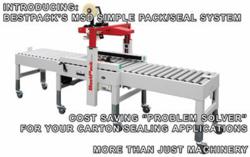 Save over $1,100 off the retail price as BestPack offers the MSD Simple System for the promotional price of only $4,955.
Rancho Cucamonga, CA (PRWEB) June 01, 2011
Leading supplier of packing tapes and other packaging equipment, BestPack, is proud to introduce a cost saving "problem solver" which is ideal for all carton sealing applications. The company unveils the MSD Simple System which includes the workhorse and the top selling MSD model top and bottom sealer; the in feed and exit conveyor system; casters on all legs of the system; a unique L-bracket carton stopper and to complete the package, a carton holder. Save over $1,100 off the retail price as BestPack offers the MSD Simple System for the promotional price of only $4,955. Contact a BestPack representative now for more information about this exciting promotion. Interested customers may also visit the website to find out more about the company's line of premium industrial packaging solutions and other promotions.
Best Pack is an industry leader when it comes to providing both start-up and established businesses the best packaging and sealing solutions. Customers can choose from the company's line of durable, reliable and cost-effective carton sealers which is also Best Pack's flagship product. The company carries more than 90 models of carton sealers which are classified into four categories—adjustable manual, adjustable fully automatic, random manual and random fully automatic. Best Pack also carries a line of packing tapes ranging from industrial grade pressure sensitive acrylic packing tapes to a line of premium grade acrylic carton sealing tapes made especially for extreme temperatures, which features a premium grade adhesive. The company also provides printed and printable packing tapes. Visit BestPack.com now to view the complete catalogue of BestPack's carton sealing solutions.
Aside from carton sealers and packing tapes, the company's catalogue also features products such as case erectors; accessories such as tapeheads, skid plates, carton stopper kits and conveyor kits; as well as custom automated packaging systems. BestPack's experienced engineers and technical consultants are also available to assist companies and entrepreneurs requiring packaging machine installation and training services. Customers can expect no less than topnotch service and the best automation systems available from the company. BestPack also caters to businesses with limited budgets that prefer to lease packaging machines. Sign up for the newsletter now to find out more about BestPack's latest promotions and updates on the company's products and services.
###