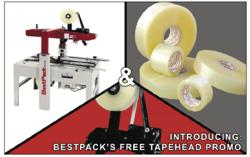 Rancho Cucamonga, CA (Vocus/PRWEB) March 09, 2011
Consistent with its goal to help the packaging industry save on packaging equipment costs, packing tape supplier BestPack.com proudly offers the free tapehead promotion. Customers who purchase any carton sealer with a pallet of BestPack carton sealing tape are entitled to a free BestPack tapehead. Clients may save as much as $1,168.00 on packaging equipment with the packing tape supplier's free tapehead promotion.
As a global leader in packaging systems, BestPack.com offers a wide range of cost effective and highly efficient automated and semi-automated packaging system solutions. With over 80 different models of carton sealers, customers are guaranteed to find packaging solutions that meet their various industry needs. Carton sealers from the packing tape supplier are built to last, with the ability to withstand heavy usage. With over 35 years in experience, BestPack.com has supplied carton sealers and packing tapes to Fortune 500 companies all over the world. Among BestPack.com's world-renowned clientele are Motorola, Gucci, Tommy Hilfiger and Liz Claiborne.
Carton sealing tapes manufactured by BestPack.com have experienced national success due to their specially formulated adhesive material which features a broad temperature range and consistent film quality. The high level of temperature tolerance of BestPack.com's carton sealing tapes makes them ideal for the pharmaceutical, food, and electrical industries. The complete line of carton sealing tapes includes the popular hot melt and water-based acrylic sealing tape.
BestPack.com's commitment to the packaging industry is demonstrated in its continuous efforts to offer affordable deals on packaging equipment, including as carton sealers, case erectors, and packing tapes. To receive exclusive deals and offers, join the company's mailing list or simply visit the packing tape distributor's official blog for the latest packaging industry news.
About BestPack.com
Based in Rancho Cucamonga, CA, BestPack.com is the industry leader in packaging equipment machinery, case sealers, carton erectors and packaging tape. BestPack.com is one of the most reputable manufacturers of all product packaging systems, providing customized packaging solutions for various industries. This press release is produced by Cybertegic.com - an Internet marketing services agency that specializes in search engine optimized press release marketing (SEO marketing).
# # #