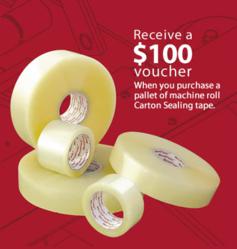 Rancho Cucamonga, CA (Vocus/PRWEB) March 31, 2011
Shop and save on packaging equipment with irresistible deals offered by packing tape distributor, BestPack.com. until April 4, 2011, BestPack is offering case sealers at huge savings, starting with the MBD Case Sealer for only $2,669.00. At $879 off its retail price, companies who are in need of affordable solutions can purchase the Manual Bottom Drive Case Sealer, BestPack's most economic model yet. MBD carton sealers are operator-fed and adjustable. These carton-sealing machines are designed to cater to the needs of light to heavy duty and uniform carton closure applications.
The MSD Simple Pack/Seal System, on the other hand, is now available at a promotional price of $4,700.00, with the packing tape distributor taking off as much as $700 off its retail price. The MSD Simple System is equipped with a workhorse and top selling MSD model top/bottom sealer and an infeed and exit conveyor system. Tagged as BestPack's cost-saving and problem solver carton sealer, the MSD Simple Pack/Seal System also features casters on all legs of the system as well as a unique L-bracket carton stopper & carton holder.
Shop for rolls of carton sealing tapes to earn more vouchers and solve multiple packaging equipment problems with BestPack's Tape 2 Parts Voucher Program. With the Tape 2 Parts Voucher Program, clients can simply purchase a pallet of machine roll carton sealing tape to receive a coupon worth $100, which can be used to purchase spare tapehead parts and machine belts. To avail of spare parts for tapeheads and machine belts, simply present the Purchase Order that came with the voucher. The voucher, which can be used for a single transaction only, is valid for 30 days and can be used by the distributor and specific end-user to which it is issued.
Finally, BestPack's long-running Free Tapehead Promotion continues to offer companies the chance to save as much as $1,168.00 on packaging equipment. Receive a free BestPack tapehead just by purchasing any BestPack carton sealer and a pallet of BestPack carton sealing tape. Carton sealers are BestPack's flagship products but the packaging solutions expert also boasts of a wide range of packaging equipment such as packing tapes, case erectors, drop loaders, and more.
To receive exclusive deals and offers, join the company's mailing list or simply visit the packing tape distributor's official blog for the latest packaging industry news.
AboutBestPack.com
Based in Rancho Cucamonga, CA, BestPack is the industry leader in packaging equipment machinery, case sealers, carton erectors and packaging tape. Also providing customized packaging solutions, BestPack is one of the most reliable and dependable manufacturers of all product packaging systems. This press release was produced by Cybertegic.com - an Internet marketing services agency that specializes in search engine optimized press release marketing (SEO marketing).
###