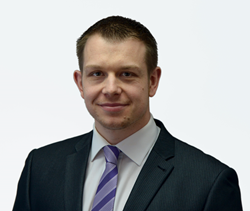 I'll be explaining how METTLER TOLEDO uses PackML and a range of industry-standard protocols to expose industry-standard interfaces to our equipment, allowing for easier end user integration.
(PRWEB) March 07, 2017
Smart packaging automation using PackML and OPC UA is the theme of the Organization for Machine Automation and Control's (OMAC) upcoming conference, which takes place at the Microsoft Development Center in Copenhagen on 15th and 16th March 2017.
Through live implementations and user stories, delegates will discover how PackML (short for Packaging Machine Language) can be used as a standard interface to facilitate optimal integration between machines and higher-level supervisory control systems on the factory floor.
Comprising end users, machine builders, system integrators and automation suppliers, the conference will focus on how end user companies can improve production flexibility, throughput and increase capacity of machine equipment, while reducing the costs of integration.
PackML Features Are Built into METTLER TOLEDO Product Inspection Equipment
Lead Software Engineer at METTLER TOLEDO and Co-Chairman of the OMAC Packaging Workgroup, Lee Smith said, "I'll be explaining how METTLER TOLEDO uses PackML and a range of industry-standard protocols to expose industry-standard interfaces to our equipment, allowing for easier end user integration."
Lee Smith will speak about how METTLER TOLEDO has implemented PackML across the company's range of in-line product inspection solutions, including checkweighing, metal detection, vision and x-ray inspection systems, providing an industry-standard interface using a range of common industrial protocols such as Ethernet/IP, Profinet IO, Modbus TCP, OPC DA, and more recently, OPC UA.
During his presentation, which takes place on 16th March between 11.30am and 12pm, Lee will highlight the benefits a standardized communications language and data structure such as PackML offers manufacturers, including streamlined data collection and easy data exportation.
Exhibition: PackML and OPC UA
Plenty of examples and presentations of PackML and OPC UA implementations will be given by end users, while automation suppliers will showcase their tools and solutions for OEMs and end user companies. In addition, visitors will have the opportunity to:

Meet industry peers
Listen to various companies' presentations, including Microsoft, Arla Foods and Tetra Pak
Receive a hard copy of the new PackML unit/machine Implementation Guide
Find out about the challenges in adapting PackML as an interface
Discover how PackML can improve Overall Equipment Effectiveness (OEE), reduce downtime, improve quality and increase production
Be informed about future activities in OMAC: Machine Software Code Structure, Connect - Network Connections, Safety, Line Integration, User Interface - HMI, OEE, and more…
About METTLER TOLEDO
METTLER TOLEDO is a leading global supplier of precision instruments and services. The company has strong leadership positions in a wide variety of market sectors and holds global number-one market positions in many of them. Specifically, METTLER TOLEDO is the largest provider of weighing and analytical instruments for use in laboratory and in-line measurement in demanding production processes of industrial and food retailing applications.
The Product Inspection Division of METTLER TOLEDO is a leader in the field of automated inspection technology. The Division incorporates the Safeline Metal Detection and X-ray Inspection, Garvens and Hi-Speed Checkweighing and the CI Vision and PCE Track & Trace brands. The solutions provided by the business increase process efficiency for manufacturers while supporting compliance with industry standards and regulations. Systems also deliver improved product quality which helps to protect the welfare of consumers and reputation of manufacturers.
For general information on Mettler-Toledo Product Inspection, visit: http://www.mt.com/pi