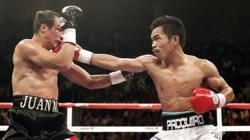 All remaining Pacquiao vs. Marquez 3 tickets are reduced by 45% with promo code "wicked", announces TicketHunterOnline.
Los Angeles, CA (PRWEB) October 06, 2011
Manny Pacquiao vs. Juan Manuel Marquez 3 tickets have sold out in record fashion, already being named one of the largest hits in the box offices to date for the MGM Grand. Secondary market ticket vendors have the only remaining seats left, TicketHunterOnline has announced a 45% reduction of all remaining Pacquiao vs. Marquez III tickets with promo code "WICKED".
Manny Pacquiao has reportedly been training harder than ever, as he will spend 3 more weeks of camp in the Philippines before finishing the remainder of training camp in Hollywood, CA. Freddie Roach has been with Manny since September 20th, and things seem to be running ahead of schedule..
The quick sellout of the fight came as no surprise to most of the public, as Juan Manuel Marquez and Manny Pacquiao's two previous bouts were nothing short of spectacular. Marquez has expressed a desire to retire after the epic trilogy, which certainly adds to the excitement.
"Manny was in good shape before Freddie got to the Philippines because he trained during the tour, so when Freddie got [to the Philippines], Manny could hit the gym running," Arum said. "And he'll be back in the U.S. five weeks ahead of the fight, when it's usually only four. So it's easier to promote when he is here. We have so much stuff that we are doing."
The last Manny Pacquiao vs. Juan Manuel Marquez took place at 130 lbs, and ended in a highly debated split decision win by Pacquiao. Pacquiao vs. Marquez will take place at 144 lbs, a weight that Marquez had a terrible showing against Floyd Mayweather. Yet again, Pacquiao's camp chooses to fight an opponent at his most vulnerable state.
Nonetheless, the fight will no doubt be an exciting one, as the majority of the betting public is expecting a Manny Pacquiao shut out against the 39 year-old Marquez.
All remaining Pacquiao Vs. Marquez III Tickets at 45% off are to be referenced at TicketHunterOnline.com, using promo code "wicked" at checkout.
Rebecca Randells
Editorial Columnist
USATalkToday
###