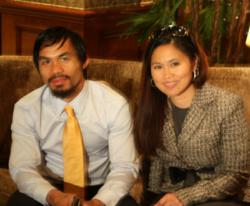 Las Vegas, Nevada (PRWEB) May 11, 2011
On May 7, 2011, Saturday, Congressman Manny "Pacman" Pacquiao defeated "Sugar" Shane Mosley by a unanimous decision by the three judges. It declared Manny the winner and retained the Welterweight Championship of the World.
On the third round, Pacquiao knocked Mosley on a left hook and that punch may of left Mosley to not want to engage anymore. The crowd watched each round, and he refused to trade punches and was chased around throughout the fight.
The highlight of that night was when the referee Kenny Bayless mistakenly ruled that Mosley knocked Pacquiao down on the 10th round when he didn't even hit him on a punch.
"I fought the best fighters in the world, " Mosley commented. "He has exceptional power; power like he has never been hit like this before."
Regina Ong-Garcia represented SCCPress.com from San Diego County. Ms. Garcia noted and observed celebrities were all over the room such as Paris Hilton, LL Cool J, former WBF Feather Weight Champion of the World Orlando "Orly" Villaflor, Nelson Datu Anderson from Los Angeles as a producer, director and screenwriter of a documentary called "Whisper of the Ancestors" and many others.
After the fight speculators who were in ringside in Vegas or watched tv observed and made several comments.
One sports individual who watched the fight said, "Manny chased Shane all over the ring."
Others commented that he didn't want to get knocked-out and just wanted his $5 million dollars.
Jordan Thomas an African American young adult female who flew from Chicago viewed the live boxing said, "Manny outweighed in size, and Manny fought better."
Two Filipina American women locally from Vegas who partied in one of the after party casino's watched the fight live on a big screen tv. They indicated that they heard one female in the audience cursed on ringside and unbelievably said, "XXXX You! XXXX You! XXXX You!" Then one male commented and said that it was a misinterpretation of what they heard. He said the female was encouraging "Sugar" Shane Mosley to fight back. The interpretation in his words was more like "Fight You?"
One of the African American Vegas cab drivers who watched the fight on tv before his late shift to work indicated and said that it was not what he expected. He wanted to see a real fight and felt disappointed. In his opinion, he felt he paid to see friendship or bear hugs than a quality fight.
Liz a Latina American young adult who works for Staples from San Diego County commented that her dad supported Pacquiao. Liz said, "I heard that Manny is good because he knows martial arts."
Ken Harris an African American who flew from Maryland and watched it live said, "My son is a personal trainer for 'Sugar' Shane Mosley in Vegas." Mr. Harris indicated he doesn't feel in the near future that Mayweather will fight Pacquiao. Mr. Harris predicts and said, "It will be for another two or more so years." In his opinion, Mayweather will wait till Pacquiao gets a little older. Mr. Harris remarked an inside dibs and commented that "Sugar" Shane Mosley was training Mayweather how to fight in the future with Pacquiao if he did not want to be knocked down.
The night of celebration was just beginning for "Pacman" with an itinerary after the fight which started off at the Orchid Lounge as a special guest appearance at the Mandalay Bay. Tickets were sold for $70 dollars.
Then a whirlwind of surprises allowed SCCPress.com for a private photo-op meet with Congressman Pacquiao at the penthouse.
At around 4 a.m., Congressman Manny Pacquiao was still widely awake and alert being interviewed by two Philippine media from the Philippines which was GMA and ABS-CBN live. He had a few guests in his penthouse and all were still alert.
In one live interview where the guests were watching him, and he nonchalantly had this whimsical expression on his face, jokingly said, "I feel like a celebrity?" Several people around him just smiled and quietly laughed. They understood even with the status quo that Manny has obtained, he still carried humor and humility.
Several friends of Manny were there such as Hansel from Los Angeles and Orlando Villaflor.
After the interview was over and photo-op's were graciously given, Congressman Pacquiao said that he needed to wrap-it-up and sleep. Since it was Mother's Day at the early 5 a.m., Jinkee his wife was in the room soundly asleep.
On Wednesday, May 11, 2011 a spokesman indicated that Congressman Manny Pacquiao will be flying back to the Philippines to resume his role as a family man and Congressman for the people of the Philippines until his next possible fight with Juan Manuel Marquez on November 2011.
Courtesy photo by Hansel.
Picture of Regina Ong-Garcia/SCCPress.com with Manny Pacquiao after the fight with Shane Mosley at his penthouse in Vegas.
Like us on http://www.facebook.com/sccpress
###