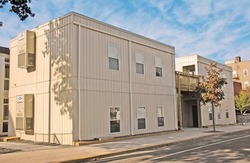 Indianapolis, IN (PRWEB) November 2, 2010
Lincoln Elementary School in Kearn, New Jersey is located on a busy downtown street. When it came time for the school to renovate their classrooms, they needed temporary space that could be located on their existing campus in the tight quarters between their main building and the street. Pac-Van was able to provide the ideal modular classroom solution.
Multi-story modular classrooms are designed to optimize the space available and provide the necessary square footage to enable the renovations without having to send students to alternate sites during the construction. These modular buildings consisted of sixteen modules that provided twelve individual classrooms. The site was prepared before delivery of the modules to minimize the disruption of traffic. The street was only closed for an afternoon while the buildings were put into place.
One of the other benefits of temporary modular classrooms is their ability to be re-used. The design of these classrooms allows them to be easily disassembled, transported and then reassembled at any of the other schools in the district. With other renovations scheduled for the upcoming school years, this flexibility was a key factor in the decision to use temporary modular construction. When deployed at other locations, these modules can be one or two story as space allows.
Schools and other customers can also benefit from the eco-friendly aspects of modular construction. By including building choices such as energy efficient windows and lighting, these buildings reduce operating expenses and since they are manufactured off-site, there is minimal site pollution or wasted materials.
Now that the renovation is complete, the temporary classrooms can be used at other schools as classroom overflow space, for after school programs or as administrative offices. Since the modular classrooms were able to meet several different planned needs, the return on the investment on these buildings was very easy to justify for the school district.
About Pac-Van, Inc.
Pac-Van, Inc. is a regional provider of high quality, permanent and portable buildings such as mobile offices, storage containers and modular buildings. The company provides dependable, local service to customers in a wide range of sectors, including those in the commercial, industrial, construction, government, medical, and education markets. Pac-Van is headquartered in Indianapolis, IN and has local offices and staff in 26 cities in 18 states. The company is owned by General Finance Corporation – NASDAQ: GFN
###