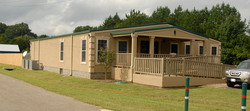 …after doing some comparison with other companies I decided to go with Pac-Van and Mark. The reasons are numerous! With number one being customer service and the follow through that Mark had. - Dr. Melinda Combs
Indianapolis, IN (PRWEB) April 20, 2010
The proprietor of the Winchester Road Animal Hospital in Huntsville, Alabama is no stranger to modular construction. It was this familiarity that led Dr. Melinda Combs to choose a new modular building provided by Pac-Van to replace her old modular facility that no longer met the hospital's needs. The two primary concerns for this project were commercial-quality appearance and a short time to occupancy.
Cost Effectiveness/Energy Efficiency/Time to Occupancy:
This project is a case study in modular vs. stick built construction. A competitor commissioned a stick built facility less than 2 miles from the Winchester Road location. By utilizing modular construction, the Winchester Road Animal Hospital was able to occupy their building in 90 days, whereas the stick built project nearby took approximately 10 months. Although her competitor's facility is nearly double the size, Dr. Comb's estimates that her costs were only 25% as much.
Pac-Van was also able to complete the modular medical building in a third of the time, while providing temporary office space so the clinic did not have to close during the construction. As an additional bonus, the Dryvit™ exterior requires less energy to heat and cool the facility, providing utility cost savings of more than 20%. By consuming less fossil fuel to heat and cool the facility, carbon dioxide emissions are minimized, also benefiting the overall environment.
The key features in this building project are:

Tile flooring throughout to provide a warm, low maintenance environment
Accoustical drop tile ceiling for noise reduction
A Dryvit™ stucco-like finish with metal roof and exterior trim accents for durability & a professional appearance.
Steel reinforced 2-ply wood under flooring to support heavy medical equipment
Permanent block foundation to allow for high-efficiency HVAC and easy crawlspace access
Custom cabinets from the factory to shorten delivery time
About Modular Buildings
A modular building is a factory-built structure that complies with the same building codes as traditional construction. Modular construction is ideal for any application including medical and retail facilities as illustrated above. They offer the advantages of early occupancy, portability, financial flexibility, and often, cost savings. Modular buildings have established a growing niche in the construction process for organizations that need quality temporary or permanent space without the delays often associated with traditional "site built" construction. More recently modular buildings have also been identified as a more eco-friendly building option for those companies looking to reduce their carbon footprint.
About Pac-Van, Inc.
Pac-Van, Inc. is a regional provider of portable buildings such as mobile offices, storage containers and temporary and permanent modular buildings. The company serves a diverse array of customers, including those in the commercial, industrial, construction, government, medical, and education markets. Pac-Van is headquartered in Indianapolis and has offices in 26 cities in 18 states. The company is owned by General Finance Corporation – NASDAQ: GFN
###