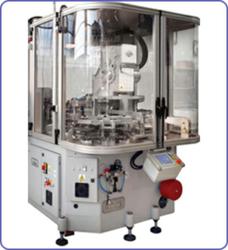 Lowell, MA (PRWEB) June 05, 2013
Innovative Marking Systems (IMS), the North American distributor of TOSH, an Italian pad printing machine manufacturer, has recently announced a new initiative that will help original equipment manufacturers across the country meet their business goals and green initiatives with faster and more energy efficient printing systems.
As IMS Vice President Trent Pepicelli explains, "Businesses across the country are fighting to stay profitable, efficient, and productive. At the same time, a lot of them are also trying to do their part to help the environment. On top of that, many also strive to ensure their products remain manufactured in the United States. Our latest initiative to reach more businesses with pad printers from TOSH helps manufacturers accomplish those goals."
The TOSH line of pad printers includes a number of printing machines capable of a wide range of printing capabilities. According to Pepicelli, pad printers have become particularly sought after by a number of industries for their ability to print on curved and irregularly shaped surfaces. In the past, they have been used for printing on appliance panels, such as washing machines, dryers, and dishwashers.
Pepicelli says, "Unlike something like a screen printer, pad printers can reliably print on just about any surface. That makes printing for curved membrane switches and touch-key applications much easier. By supplying fully modular and extremely upgradable pad printing machines to manufacturers across the country, we've been able to drastically enhance the efficiency and productivity our customers are capable of."
"But it's not all about performance." In addition to numerous performance benefits, Pepicelli explains that due to the fully electronic operation of pad printers, they are also a more energy-efficient solution for manufacturers who are typically accustomed to working with compressed air. "In general, 30% of compressed air generated in a typical factory is lost due to small and large leaks." According to Pepicelli, this alone represents a particularly ripe area for manufacturers to realize cost and energy savings.
For businesses committed to manufacturing in the United States, "[IMS] offers pad printing solutions that provide up to 30% to 50% greater print speeds". This speed is delivered by machines designed and engineered with the printing process in mind the entire time. As Pepicelli explains, " This eliminates the need to 'baby' the printing process, since every part is designed to contribute to greater performance." On top of reduced maintenance and noticeable energy savings, representatives at Innovative Marking Systems believe that TOSH pad printers will help give American manufacturers a major advantage in 2013 and beyond.