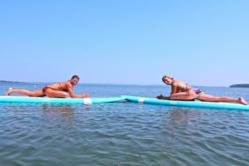 There is so much interest in SUP Yoga that we thought we better start training up instructors who are specifically certified to teach it.
East Hampton, NY (PRWEB) April 26, 2013
It started three years ago: a groundswell of interest in stand up paddle boarding, or "SUP" as it's familiarly known. Back then, Gina Bradley was a lonely soul out on the bays and beaches, with a small cadre of friends (and friends of friends) determined to get other women to join them out on the water. Since then, SUP has become all the rage, with enthusiasts of both genders and all ages discovering the joys and real benefits that paddling brings.
"It's the only sport that gives you a real head-to-toe workout, and unlike surfing, which can be very humbling and difficult to master, you can be walking on water within an hour," says Bradley, founder of Paddle Diva, Long Island's only SUP Center with waterfront access. "It's a very empowering feeling and does amazing things for your mind and spirit as well as your body."
Along with the sport's popularity comes increased competition, but Bradley remains confident. "Demand is so strong, there are plenty of clients to go around, and Paddle Diva has some great competitive advantages," she said. "Our waterfront location at the Shagwong Marina in East Hampton allows us to offer an array of tours and lessons on a regular schedule, which attracts those looking for an alternative or supplement to their gym routines. SUP board manufacturers love us because we can really represent their products and provide customers something they can't get at a surf shop: the expertise of professional SUP instructors and racers, and a "try before you buy" experience."
Paddle Diva has something for everyone: beginner lessons, distance training and adventure tours, and this year, a special Stand Up Paddle Board Yoga Teacher Training program with Jessica Bellofatto of Kama Deva Yoga. "SUP Yoga has a natural home in the Hamptons," says Bellofatto. "Eastern Long Island's lakes, ponds and salt marshes are the perfect setting for learning, and there is so much interest in practicing SUP Yoga that we thought we better start training up instructors who are specifically certified to teach it."
"It can be really confusing to people who are looking for a qualified instructor," said Bellofatto. "I have continued my training ever since receiving my 800 hr. level certification 20 years ago, and I am also WPA-certified to teach SUP. With our Stand Up Paddleboard Yoga Teacher Training program, we're offering instruction around water safety, paddling skills, entry and exit into the water, as well as various yoga sequences on the boards for all levels of students. It is a comprehensive training from which instructors can then confidently teach others. People love the idea of doing Yoga floating on a board in the water in a gorgeous location. It is something unique that takes them out of their daily fitness routine."
Bradley agrees that Long Island's East End is a beautiful setting for both SUP and yoga. As an environmental activist (Bradley appeared in Susan Rockefeller's recent documentary, "Mission of Mermaids"), she tries to use Paddle Diva's SUP tours to educate her clients about the local ecosystems and promote an awareness of the threats faced by the coastlines and waterways of the Hamptons and North Fork.
"I have a deep appreciation and love of marine environments and stand up paddling allows me to share with others first-hand how delicate these ecosystems are. Sustainability is imperative for Paddle Diva's survival -- not to mention the health of our planet and what sort of environmental legacy we leave our kids."