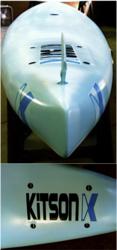 We love hearing from our customers, especially something this creative and visual. It's just what our other customers have been asking to see
Olympia, Wash. (PRWEB) February 09, 2013
Since the brands launch in April 2012, surf and paddle board enthusiasts have been curious to see how a Kitson Board preforms on the water. One of the carbon fiber board manufacturers very first customers was so pleased with her custom paddle board that she decided to create a series of web videos featuring her riding her Kitson.
Her first video, titled a Kitson Kristmas, shows the client on her interlingual ride on her brand new paddle board, which she shared with AmazingUniverse.com, Inc President, Michael Kitson just after the December 25th holiday.
"It was a quite a surprising and welcome Christmas present for us to receive such a wonderful gesture of appreciation from a client." said Kitson. "We love hearing from our customers, especially something this creative and visual. It's just what our other customers have been asking to see."
The client has since sent another video to add to the Kitson Boards video collection.
Kitson Boards is a subsidiary of AmazingUniverse.com, Inc. which is also responsible for Wine Rack Store.com and was founded by Michael and Denise Kitson. Kitson Boards, LLC headquarters is located in Olympia, WA. Kitson Boards are all crafted out of the ultra durable and long lasting carbon fiber material. All production of surfboards, paddle boards and wakesurf boards, as well as the people behind the brand are based in North America and is the only board producer to do so. Kitson Boards prides itself on outstanding customer service and only the finest in recreational boarding and accessories. Free shipping is available throughout the continental USA.