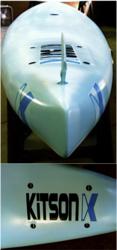 Olympia, WA (PRWEB) August 02, 2012
With the controversy of businesses seeking cheaper labor through offshore practices, two Olympia, Wash. companies are more than proud to continue the tradition 17-plus of running both businesses 100% American-based.
With WineRackStore.com operating since 1995 and now Kitson Boards, which opened early 2012, it would be easy for the parent company, Amazing Universe President, Michael Kitson to seek a more cost efficient way to run his business by looking outside the U.S.A, but instead, he has continued to run his entire operation out of the capital of Washington State for over 17 years.
"We custom make the best wine racks and wine cellars you'll ever find," said Kitson, "I can guarantee this because we have wood specialists and CAD designers right here in our office, not in some China-based offices, so our customers get a great one on one experience in designing the rack that's perfect for their space."
Right next door to the wood shop, the brand new carbon fiber plant, where Kitson and his team manufacture their ultra durable and sleek surfboards and paddle boards follow the same ideals in the operations process as Wine Rack Store.
"Proudly made in the USA, That's what we put on every SUP, surf and wakesurf board we create," said Kitson, "Customers can rest assured that every time they place and order, from start to finish, it's done right here."
Owned by Michael and Denise Kitson, Wine Rack Store has been selling quality pre-made and custom built wine racks, wine cellars and wine accessories since 1995. WineRackStore.com is A+ rated from the Better Business Bureau. All products are locally crafted in Olympia, WA and are shipped free anywhere in the contiguous United States.
Founded by Michael and Denise Kitson, Kitson Boards, LLC headquarters is located in Olympia, WA. Kitson Boards are all crafted out of the ultra durable and long lasting carbon fiber material. All production of surfboards, paddle boards and wakesurf boards, as well as the people behind the brand are based in North America. Kitson Boards prides itself on outstanding customer service and only the finest in recreational boarding and accessories. Free shipping is available throughout the continental USA.