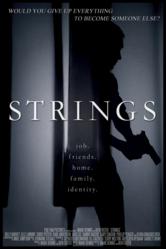 With more and more people getting their entertainment from their computers, Apple TVs, and, gaming consoles, partnering with 'The Orchard' is a major step for us
New York, NY (PRWEB) May 30, 2012
For the time being, 'Strings', can be purchased or rented exclusively on iTunes. This comes after a deal was struck between the film's producers and the Manhattan-based digital distribution company, 'The Orchard'.
"With more and more people getting their entertainment from their computers, Apple TVs, and gaming consoles, partnering with 'The Orchard' is a major step for us", says Ben Foster, 'Strings' producer and co-director. "Strings is our first film, and it being a part of the iTunes catalog is important not only because it validates the hard work from our cast and crew, but also because it finally puts the film in the marketplace where 'Strings' can start to find a larger audience".
'Strings' was written and co-directed by University of Texas graduate, Mark Dennis, and was shot in Austin, Texas. "The logistics of the script really made more sense on the East coast rather than in Texas", Dennis explains. "After Ben took a camera with him on a trip to New York City, we used the footage he shot to set the entire movie in the New York area." Both Foster and Dennis are recent UT graduates and used their Texas connections to pool their resources and gather props, locations, crew members, actors, and all the other ingredients of making a movie. A combination of these favors and $65,000, raised from family, friends, and credit cards, helped take 'Strings' from script to screen.
By the time the festival run came around, New York film festivals embraced the film more than those in any other state. 'Strings' was selected by The Long Island International Film Expo, The Gotham Screen International Film Festival, and The SOHO International Film Festival, where it took home the award for Best Feature Film.
"Having exposure in and around one of the most culturally rich cities in the world was incredible", says Foster. "During our time in New York, we got to meet some of our favorite actors and directors from movies we love." 'Strings' competed at the SOHO Int'l Film Fest alongside work from Academy-Award winner, Octavia Spencer, Kevin Jonas, and Battlestar Galactica producer/director, Michael Rymer.
'The Orchard' plans to "roll out" 'Strings' beyond iTunes to Hulu, Netflix, Amazon, and a variety of other viewing platforms over the next six months. http://www.stringsmovie.com