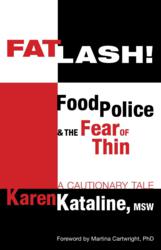 ...Child 'glitz' pageants will fall out of favor when more people are better informed about the consequences.
Denver, Colorado (PRWEB) November 27, 2012
Programs like Toddlers and Tiaras and "Honey Boo Boo" have reignited controversy about "pageant moms on steriods," who live vicariously through their children, but there has never been a name to describe it until now. The syndrome has been termed "Princess by Proxy" by Martina Cartwright, PhD, RD in a new memoir, Fatlash! Food Police & the Fear of Thin—A Cautionary Tale by Karen Kataline, MSW.
"Princess by Proxy" Syndrome, a subcategory of Achievement by Proxy Distortion (ABPD), is a pattern of adult behaviors that occurs when an adult's pride and satisfaction are achieved through a child's activities. It starts with the best intentions. Parents and adults who lovingly and compassionately support children's activities are normal. Those with ABPD objectify their children, seeing them either consciously or unconsciously as a means to obtain financial or social gains for themselves. Studies show that sexual objectification can put a child at risk for abuse and neglect.
Princess by Proxy is rampantly evident in the child pageant circuit and programs like "Toddlers and Tiaras" and their spinoffs like "Honey Boo Boo" where the most extreme pageant moms are rewarded with exactly the kind of financial gain and recognition they seek.
Kataline grew up with just such a mother. Put on the stage at the age three, she was exposed at an early age to being stared at and inappropriately displayed wearing skimpy outfits in front of audiences. Her tale warns against this kind of sexualization, not by banning pageants, but by educating parents and audiences alike about the dangers of exposing children in a way they are not prepared for. "I wrote my story in part, to illustrate in human terms, how this kind of sexualization affects normal development. While it doesn't take a pageant to sexualize a child, I believe pageant moms and these child "glitz" pageants will fall out of favor when more people are better informed about the consequences," Kataline said.
By recognizing the characteristics of Princess by Proxy Syndrome, and working to protect children from it, only then will those same children be able to develop normally so that they can enter into a healthy adulthood.
ABOUT THE AUTHOR: Author and speaker Karen Kataline, MSW, received her master's degree from Columbia University and has practiced in a variety of non-profit and corporate settings. She has taught communications and public speaking at the New School for Social Research, Parsons School of Design in New York, New Jersey's Montclair State College among others. Fatlash! is her first book.
Martina Cartwright, Ph.D, RD., wrote the Foreword for Fatlash! She is a registered dietitian with a Ph.D. in Nutritional Science and Biomolecular Chemistry from the University of Wisconsin-Madison. She has written extensively about child pageants and eating disorders and is credited with coining the term, "Princess by Proxy."