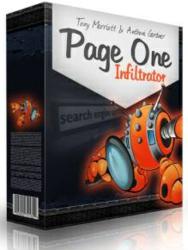 Countless website owners have seen their page ranking drop precipitously or disappear almost entirely.
(PRWEB) October 02, 2012
Page One Infiltrator- how does it work and what is its primary benefit to users? By analyzing the search results in real time, Page One Infiltrator effectively reverse engineers the Google algorithm to tell you exactly what is ranking and what you need to do to rank on page one of Google.
Countless website owners have seen their page rank drop precipitously or disappear almost entirely. Invariably, this is a profit killer for owners, who have no clue what happened or how to restore rankings for their product or service sites.
Page One Infiltrator aims to level the playing field with Google, which has been exercising mighty, relentless pressure for conformity to its secret algoritms. POI claims to implement metrics which allow users to remain untouched by Google updates, now and in the future, by having the analysis software to keep the light on the roadmap.
Using anything from 37 to over 100 individual SEO measures, it produces highly detailed SEO reports. POI can be used by individuals or SEO experts to analyse their own webpages or client websites, or even generate fresh prospects by being able to analyse any webpage even if it is not owned or controlled by them.
The POI program is reportedly easy to use and has been thoroughly tested and debugged across a wide range of operating systems, including MACs.
In addition to direct SEO, the POI tool can be used to generate leads, create new business, and can even be a whole business in it's own right. It can allow you to supply and upsell SEO services to clients.
Page One Infiltration has been in use by its beta testers for months, and with very high scores. It becomes available to the public on October 3rd.