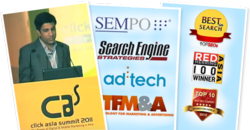 Chicago, IL (PRWEB) May 23, 2013
The premier name in the world of Search Engine Optimization, PageTraffic in its zeal to exceed customers' expectations has launched "PageTraffic Reviews". Targeted at fine tuning project delivery and client management system, the latest service will enable the SEO firm in working closely with the clients & meeting their expectations.
Navneet Kaushal, CEO of PageTraffic said, "We, at PageTraffic understand the importance of bringing about continuous improvements & maintaining the customer satisfaction. And that's the reason we decided to start PageTraffic Reviews, a speedy, improved, and simple process that will let our clients share their reviews, feedbacks, and suggestions instantly".
PageTraffic has received awards across different categories over the years. The experience of serving more than 2000 big and small brands in the market further helps the company in understanding the insights of the World Wide Web even better.
"We have heard from most of the clients about the bad service experience they have had. PageTraffic is one of the few names in the industry that provide customized packages, as per the requirement of the client. To further improve the customer satisfaction graph, we decided to launch the PageTraffic Reviews service. We are hoping that customers will appreciate our newly introduced work methodology and our company will be able to serve them in a better way," further added, Navneet Kaushal.
PageTraffic helps its clients at every step to set up a successful online business. From designing a visually appealing & structurally solid website to running intrinsic search and social media campaigns, the SEO company goes an extra mile to exceed the expectations of its clients. PageTraffic Reviews is yet another effort of the company to establish a seamless communication process with its clients. The award wining firm provides SEO services, Link Building, Full Time SEO Consultant, and Online Media Buying services. The SEO firm has also won prestigious awards including Top 50 SEO Companies, Red Herring 100 Winner, Top SEOs, and more.
About PageTraffic
Founded in the year 2002, PageTraffic is one of the most relied-upon and reputed companies for SEO. It aims to empower e-businesses and generate maximum ROI with effective SEO and Internet marketing solutions. PageTraffic is an exclusive member of Dunn & Bradstreet, IIMA, W3C, and Search Marketing Association of North America.
Contact Details
PageTraffic
Chicago
1024 N Western Ave
Chicago, IL 60622
Ph.: 800-718-7603
Outside US: 1-704-380-0113
Fax: 413-382-5798
http://www.pagetraffic.com
New Delhi
15th Floor, Eros Corporate Tower, Nehru Place
New Delhi -110019
Ph.: +91-11-64621444
Fax: +91-11-64621555
Mumbai
Raheja Centre Point
2nd Floor
294 CST Road
Near Mumbai University
Kalina
Santacruz (e), Mumbai -400098
Ph.: +91-22-65612410