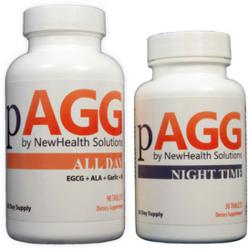 Chicago, IL (PRWEB) March 06, 2012
NewHealth Solutions, the premiere supplier of the breakthrough weight-loss supplement, pAGG (which is an acronym for its ingredients), is pleased to announce that it has just signed an exclusive reseller deal with GNC to offer the product online and in approximately 1,900 stores nationwide. The pAGG dietary supplement was made famous when it hit the cover of Woman's World Magazine in October of 2011. NewHealth Solutions has parlayed the success of it's product and the Woman's World Magazine exposure into a sponsorship on an NBC Reality TV Show titled "Put Your Money Where Your Mouth Is." The product is expected to be available in stores in March 2012.
"Woman's World Magazine has a great following, but it's focused on primarily the female demographic," says Tyler Masterson, founder of NewHealth Solutions. "By moving into 1900 GNC stores across the nation, we are going to continue to expand to a wider audience to help more people achieve their fitness goals. Our product has a strong appeal to people who are serious about losing weight and living healthy—which is obviously a match with GNC customers. They want good ingredients, they want results and we deliver on both demands."
NewHealth Solutions' pAGG Stack uses naturally occurring ingredients that are decaffeinated, naturally occurring and vegetarian friendly. The formula captures five ingredients individually chosen based on scientific research for their fat-loss and health benefit potential. The five ingredients include policosanol to support healthy cholesterol levels, alpha-lipoic acid (ALA) to support antioxidant regeneration, decaffeinated green tea with high EGCG potency to support metabolism, aged garlic extract to support cardiovascular health, and biotin to help maintain energy levels.
About New Health Solutions
New Health Solutions LLC is a progressive diet supplement company committed to products featuring fine quality ingredients. Its flagship product is the pAGG Supplement System which includes the 2 tablet pAGG formula pAGG All Day™ and pAGG Night Time™ supplements. New Health Solutions was founded in 2010 and is based in Chicago. For more information visit: http://www.paggsupplement.com, become a fan at Facebook.com/pAGGsupplement