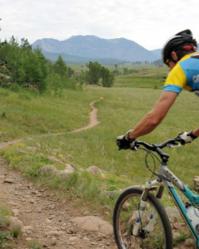 It's the coolest event we could possibly think up, and we're excited for the competitors to vie for their share of the $60,000 purse.
Pagosa Springs, Colo. (PRWEB) May 30, 2013
The Town of Pagosa Springs and the non-profit group Give Every Child Knowledge of the Outdoors, also known as GECKO, today announced a new mountain adventure race that will be held in Pagosa on Oct. 5-6.
The EPIC Mountain Challenge is a mixed-discipline, four-stage, two-day event that combines cross-country and time trial mountain biking with trail and road running. The prize purse is a whopping $60,000, drawing competitors in solo men, solo women, duo women and duo open categories. Nightly movies, photo slide shows, food, beer and a finale concert with reggae legend Pato Banton add a social element to the event, which will be hosted at the Springs Resort & Spa in downtown Pagosa.
"We set out to create a groundbreaking event that is not only an intense athletic challenge, but one that created a platform for people to get together and socialize," says Morgan Murri, GECKO founder. "It's the coolest event we could possibly think up, and we're excited for the competitors to vie for their share of the $60,000 purse." Murri adds that the prize money is open to anyone (there is no elite field) and that the purse breakdown means even the fifth place finisher takes home $1,000.
"Because the events will all be hosted in downtown Pagosa Springs, it gives competitors and their families and friends the chance to check out everything that makes Pagosa such a great place to vacation," says Town of Pagosa Springs Tourism Director Jennifer Green.
Green notes that the San Juan River flows right through downtown, offering floating, fishing and frolicking. Reservoir Hill, a 110-acre park located in the heart of Pagosa, features an 18-hole disc golf course and miles of hiking and biking trails. There are three hot springs establishments located right in downtown, making it easy to soothe sore muscles in waters that Guinness named the world's deepest geothermal hot spring. All this, plus numerous shops and restaurants. For more on planning a trip to Pagosa Springs log on to http://www.visitpagosasprings.com.
GECKO is a 501(c)(3) Not-for-Profit that raises funds to provide outdoor scholarships for teenagers to the nation's leading outdoor education providers. The EPIC Mountain Challenge is just one of many events the group sponsors. Here's a look at the other GECKO races being hosted this season.

June 15 XTERRA Turkey Track Trail Run: Half and full marathon options along scenic trails.
Aug. 24 Mountain Chile Cha Cha: Trail running, music and chile, all in downtown Pagosa Springs.
Sept. 15 XTERRA Pagosa Springs: Swim, bike run, it's so much fun!
Sept. 28 Devil Mountain Ultra: 50 mile, 50k and half marathon on trails offer "one hell of a run!"
Oct. 5-6 EPIC Mountain Challenge: Two day, four stage run/ride.
For more information, including how to register visit http://www.joingecko.org.
About Pagosa Springs (http://www.visitpagosasprings.com)
Pagosa Springs is located in the Colorado Sunbelt along the western slope of the Continental Divide in southwest Colorado. Pagosa is home to the world's deepest geothermal hot springs aquifer, as recognized by the Guinness World Record, which provides R&R for weary travelers and also heats many downtown buildings and sidewalks. Nestled in the three-million acres of the Weminuche Wilderness and the San Juan National Forest, Pagosa Springs is one of Colorado's most natural escapes. Visitors will find a variety of outdoor activities to participate in including biking, skiing, rock climbing, and horseback riding. Recently, Pagosa Springs was included in National Geographic Adventure magazine's "50 Best Places to Live and Play NOW: The Next Great Adventure Towns edition." To explore what Pagosa Springs has to offer visit http://www.visitpagosasprings.com.