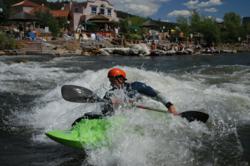 Pagosa Springs, Colo. (Vocus/PRWEB) April 14, 2011
Few towns in Colorado have as much character, or characters, as Pagosa Springs. The town's imaginative lineup of festivals is proof positive of its unique personality. Here is a look at some of the eclectic events on tap this summer that include boats, barks and bloody Marys.
This is just a handful of the festivals scheduled in Pagosa Springs this summer. Visit http://www.visitpagosasprings.com/events for a complete lineup, including the ever-popular Folk 'n Bluegrass Festival, held June 3-5 on beautiful Reservoir Hill in downtown Pagosa Springs.
(Please note schedules are subject to change.)
May 21: 1st Annual Rapids and Rhythms
Rapids and Rhythms showcases the three new river features that created a world-class whitewater experience on the San Juan River running through downtown. Enjoy a River Rodeo, where kayakers surf, spin, cartwheel and perform crazy aerial maneuvers. There is also a Fido Fetch where furry friends hit the river to retrieve their favorite toy and compete for prizes. Watch your favorite kayaker or rafter navigate obstacles in the "anything goes" Boater-X Race. The River parade, featuring watercraft of all shapes and sizes, rounds out the day of fun on the river. Live music, a dance and beer are also on tap.
May 20-22: 3rd Annual San Juan River Rod Car Show
Gentleman (and women): start your engines! Featuring more than 100 classic cars, trucks, semis, motorcycles and even a school bus, the San Juan River Rod Car Show includes a free t-shirt to the first 100 entries. You won't want to miss the Show and Shine on Lewis Street starting at 9 a.m. on Saturday. On Sunday enjoy the special awards festivities where winners for Participants' Choice and Peoples' Choice, among others, will be crowned.
June 24- 26: Great Golden Retriever Roundup
Pagosa Springs, the self-proclaimed "friendliest canine town in America," goes to the dogs, literally, for the Great Golden Retriever Roundup. Golden retrievers from all over the world converge on the town to compete for prizes, network with other goldens and attend health clinics. Activities include an owner look-alike contests, restaurant tours, river swim, park race, trick fest, dog show, and obedience training, to name a few.
July 23: Cruise-a-Thong
Calling all couch potatoes! This "don't-try-athlon" – that is as much fun to watch as to participate in – has your name written all over it. To set the stage appropriately, this "Race for the Average Joe" kicks off with a Bloody Mary Showdown. Next up, the triathlon events, Pagosa style. Take a cruiser bike tour through downtown, followed by a thong (flip-flop) walk on the Pagosa Springs Riverwalk, and a float down the San Juan River. The winner, not surprisingly, is the participant that posts the most average time. Awards and door prizes are presented after the race.
About Pagosa Springs
Pagosa Springs is located in the Colorado Sunbelt along the western slope of the Continental Divide in southwest Colorado. Nestled in the three-million acres of the Weminuche Wilderness and the San Juan National Forest, it is one of Colorado's most natural escapes. Visitors will find a variety of outdoor activities to participate in including biking, skiing, rock climbing, and horseback riding. Recently, Pagosa Springs was included in National Geographic Adventure magazine's "50 Best Places to Live and Play NOW: The Next Great Adventure Towns edition." To explore what Pagosa Springs has to offer visit http://www.visitpagosasprings.com
###