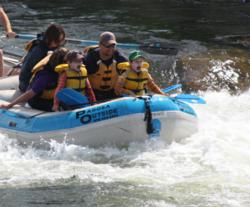 Pagosa Springs, CO (PRWEB) June 23, 2011
The Town of Pagosa Springs wants summer travelers to know that downtown Pagosa Springs isn't just beautiful; it is also chock-full of attractions and activities. The San Juan River, which flows right through the heart of Pagosa, lures visitors with the promise of adventure or leisure. In addition there are a number of other downtown-anchored attractions that will keep summer travelers busy for days. (Not to mention the town is surrounded by more than three million acres of national forest and wilderness areas, offering vacationers some of the best hiking in Colorado!)
From May until early July, the mountain snowmelt translates to amazing whitewater on the San Juan River perfect for kayaking and rafting, especially in the downtown stretch where river features continue to be added. Book a river adventure with one of the qualified outfitters in town for a rip-roaring good time.
Those more interested in a self-paced, but still exciting experience, will enjoy the river later in the summer. Tubing and floating are popular pastimes when the water levels drop below 400 cubic feet per second (CFS). It's a scenic, fun and affordable way to spend the day in Pagosa. For just $20 a day visitors may rent their choice of tubes, boogie boards and more to ride down the river. For an extra $5 catch a shuttle back upriver to float through town as many times as desired. Check out the San Juan River Flows chart for information on river conditions for each chosen adventure.
The downtown stretch of the San Juan River also features some of the best fishing in the area. In fact the Pagosa Quality Fishing Project has stocked the San Juan with trout during the last four summers, creating a healthy trout population. It's not unusual for anglers to reel in fish weighing up to 10 pounds right in downtown Pagosa (and that's no fish tale!).
Reservoir Hill is a 110-acre park located in the heart of Pagosa Springs that offers an impressive 18-hole disc golf course and miles of hiking and biking trails. The course covers 10 acres of the park's southwest meadow as it weaves through a scenic and rugged hillside with fairways that are carved out of the ponderosa, pinons and scrub oak trees. The network of trails on Reservoir Hill provides the perfect downtown location for outdoor recreation, offering incredible views over downtown Pagosa Springs and the beautiful San Juan Mountains.
Hot Springs and Pagosa go hand-in-hand. There are three hot springs establishments right in downtown, making it easy to get a hefty dose of R&R. The Springs Resort has 23 tubs, ranging from 83-114 degrees, as well as an outdoor swimming pool. The Spa Motel features hot indoor mineral baths, saunas and an outdoor mineral-water swimming pool. The Overlook Mineral Springs Spa, the newest in town, features rooftop tubs and five indoor pools.
About Pagosa Springs
Pagosa Springs is located in the Colorado Sunbelt along the western slope of the Continental Divide in southwest Colorado. Nestled in the three-million acres of the Weminuche Wilderness and the San Juan National Forest, it is one of Colorado's most natural escapes. Visitors will find a variety of outdoor activities to participate in including biking, skiing, rock climbing, and horseback riding. Recently, Pagosa Springs was included in National Geographic Adventure magazine's "50 Best Places to Live and Play NOW: The Next Great Adventure Towns edition." To explore what Pagosa Springs has to offer visit http://www.visitpagosasprings.com
###