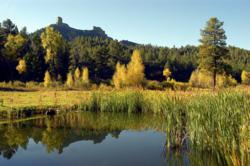 Pagosa Springs, Colo. (PRWEB) August 24, 2011
Mother Nature will soon sound a silent, yet beautiful, alarm that the seasons are changing as the leaves transform from green to golden, orange and red. In Pagosa Springs visitors may soak in the beauty of the shifting of the seasons, while also soaking up the relaxation and rejuvenation that *is* Pagosa, with three downtown hot springs locations, amazing hikes and scenic drives.
Exactly when the colors peak depends on a number of factors, including moisture, temperature, wind and other environmental conditions. (Follow the Pagosa Springs Facebook page for the up-to-date details.) Whenever you make your trek to Pagosa Springs, here are a few of the best ways to take in the season's sights.
Hiking Trails
With more than three million acres of national forest and wilderness areas, Pagosa Springs provides virtually endless miles of hiking trails.** Opal Lake is a short, two-mile hike that travels through an amazing Aspen forest. To access the trailhead, go south on Highway 84 about eight miles to Blanco Basin Road and follow it east to Castle Creek Road. Go across Blanco River and follow the road about two miles to the trailhead. Another great fall hike is Fourmile Falls, which is a few miles outside of Pagosa on Fourmile Road. Along the route there are amazing fall colors and a beautiful waterfall.
** Anyone entering the forest should be aware that the big game hunting season coincides with the colors changing. Please be careful and consider wearing a bright orange vest or cap (available at local sporting goods stores).
Scenic Drives
Cover more ground by getting in a car to access the colorful landscape. Wolf Creek Pass, on Highway 160 east from town, is a popular option. Be sure to include a few side trips to Tucker Ponds, Lobo Overlook and Treasure Falls Overlook. Leaf-seekers will also enjoy Piedra Road from Highway 160, 22 miles to Williams Creek Reservoir. One might even consider a hike on the Piedra River Trail. Mill Creek/Nipple Mountain Road is accessed by turning east on Mill Creek Road from Highway 84 just a half mile past the junction of Highway 160 and Highway 84. This is a nice, long drive through aspen forests with a lot of side road options.
Outdoor Hot Springs
There is no better way to start (or end!) an adventure in Pagosa than with a dip in one of the mineral-rich hot springs pools. Pagosa Springs makes it easy with three establishments right in the heart of downtown. There are even outdoor tubs so soakers don't have to interrupt their fall hue views to enjoy the benefits of a hot springs soak. The Springs Resort has 23 tubs, ranging from 83-114 degrees, as well as an outdoor swimming pool. The Overlook Mineral Springs Spa, the newest in town, features rooftop tubs and five indoor pools. Healing Waters Resort and Spa features hot indoor mineral baths, saunas and an outdoor mineral-water swimming pool.
About Pagosa Springs
Pagosa Springs is located in the Colorado Sunbelt along the western slope of the Continental Divide in southwest Colorado. Nestled in the three-million acres of the Weminuche Wilderness and the San Juan National Forest, it is one of Colorado's most natural escapes. Visitors will find a variety of outdoor activities to participate in including biking, skiing, rock climbing, and horseback riding. Recently, Pagosa Springs was included in National Geographic Adventure magazine's "50 Best Places to Live and Play NOW: The Next Great Adventure Towns edition."
###